AutoCAD LT for Mac and AutoCAD WS for Mac will be available exclusively in the Mac App Store.  Waiting for OS X Lion contributed to the later release, compared to all other 2012 products.
Autodesk today announced an update to AutoCAD for Mac, and introduced AutoCAD LT for Mac and AutoCAD WS for Mac. AutoCAD for Mac 2012 will be sold through Autodesk's regular channels, and will also be the first professional-level application (and possibly the highest priced at $3,995) to be sold on the Mac App store. It will also be available on Amazon.com as part of a subscription bundle.
The releases come later than the rest of Autodesk's portfolio as the company needed to wait for the release of Apple's OS X Lion, which allows the program to have additional user interface features.
AutoCAD LT for Mac ($899) and AutoCAD WS for Mac (free) will be available only on the Mac App Store. AutoCAD for Mac will be available August 19 worldwide; AutoCAD LT for Mac and AutoCAD WS for Mac are now available, but LT is for now only available in the US and Canada. Part of the reason for the limited geographic release of LT is because Autodesk wants to test selling it only through the Apple Mac App Store, which requires customers to have an Apple ID. "This is not a normal corporate approach to buying software," an Autodesk employee told GraphicSpeak. "Buying AutoCAD LT is not like buying a new level in a game or another month of the New York Times."
Autodesk is also offering AutoCAD for Mac 2012 free to qualified students and educators through the Autodesk Education Community.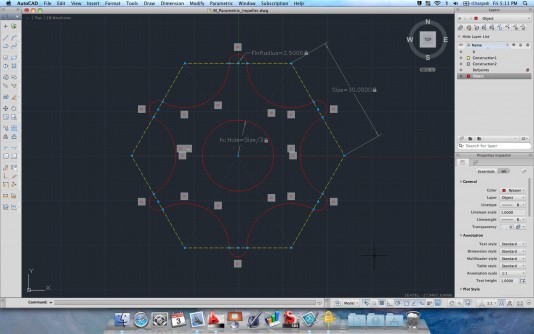 After the initial release of AutoCAD for Mac in 2010, some industry watchers speculated Autodesk's commitment to the Mac platform was still in the "wondering if there is a market" stage. Autodesk senior vice president Amar Hanspal says the release of additional AutoCAD products for Mac should end all such speculations: "Bringing AutoCAD LT and AutoCAD WS to the Mac shows our continued commitment to making design more accessible for an ever-greater number of people to shape the world around them."
Autodesk is seeing market traction for AutoCAD in Apple's traditional markets; "a heavy artistic skew" is how one employee described it. Architecture and graphic design are the most common uses for AutoCAD for Mac; very few have purchased it for mechanical design.
One early user of the software was Jim LaPier, lead designer at Chesapeake Design Group: "With AutoCAD 2012 for Mac, we've seen our productivity increase thanks to the stability of the Mac OS X operating system, and the fact that AutoCAD for Mac is a native application that doesn't require switching back and forth between operating systems. One of my favorite Mac features is Exposé, which lets me see all the drawings I'm working on at once."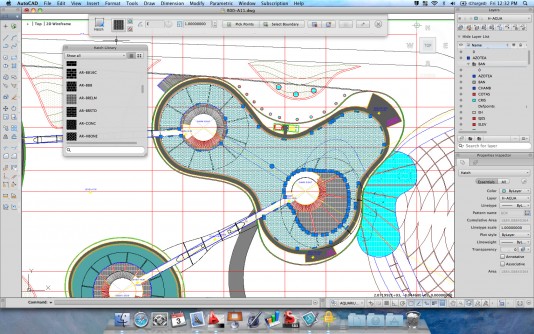 Network licensing
The addition of network licensing in AutoCAD for Mac 2012 allows the product to be available on subscription for the first time. It also allows Revit users who are entitled to download a copy of AutoCAD to select the Mac version.
AutoCAD for Mac 2012 software includes familiar AutoCAD capabilities, such as 2D and 3D design tools, and includes 3D free-form modeling capabilities; 3D visualization and rendering; menu customization; support for LISP and ObjectARX and ObjectDBX applications; and more. The Object Enablers used in the MEP and Civil versions of AutoCAD for Windows are "not yet" available. Most of the commands in the Windows version are now available on the Mac, with the exception of some features based on Windows-specific operating system elements. This "close but not complete" situation extends to the Mac support for AutoLISP, which has a few Windows-specific commands. The new Associative Array command in AutoCAD 2012 for Windows was well received by users, and has been included in AutoCAD for Mac 2012.
Sheet Set Manager is not in this version, but a Batch Publish command is available as a substitute.
AutoCAD LT for Mac follows common native Mac application user interface guidelines, with a familiar Apple menu bar together with a number of workflow-based palettes. AutoCAD LT for Mac also supports native Mac OS X Lion behavior, including Cover Flow navigation and Multi-Touch gestures.
AutoCAD WS for Mac 2012 allows Mac users the ability to share drawings with non-AutoCAD users for review and comment, the same as the versions of AutoCAD WS for the Web and the mobile versions on the iOS and Android platforms. Synchronous co-editing in AutoCAD WS allows users to collaborate on designs across all supported platforms.
Other new features in AutoCAD for Mac 2012 include:
Auto-complete command entry
Multi-function grips
Editable UCS icon
External reference visor
Layer Group
Hatch and Mleader enhancement.