Intelligent P&ID is perhaps the most competitive aspect of the already competitive Plant design business. DuPont says it applied a rigorous Sigma Six evaluation.
Chemical processing giant DuPont has decided to standardize on the intelligent piping and instrumentation design (P&ID) from Bentley Systems. Going forward DuPont will use Bentley OpenPlant PowerPID to support initial projects at plants in North America and Asia-Pacific.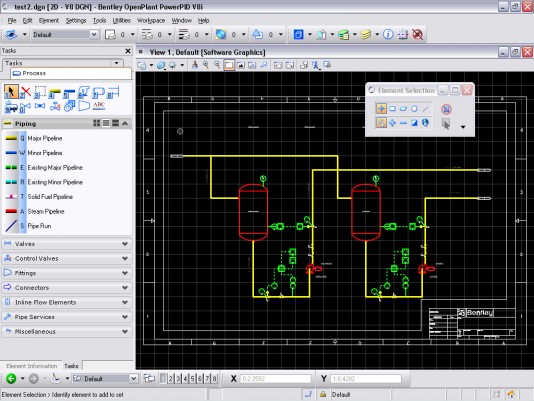 A P&ID is a diagram that shows the interconnectedness of process equipment and the instruments installed to control the process. Unlike typical design drawings produced using CAD technology, P&IDs are used daily in plant operations and are constantly maintained to reflect changes in the plant over time. P&IDs are considered intelligent when every item illustrated serves as a link to other documentation. Many process plants owner/operators still use 2D drafting (with AutoCAD or similar products) to create P&IDs, and are not necessarily intelligent documents.
All the major plant design vendors offer intelligent P&ID products, and all have standardized to some degree on the ISO 15926 protocol for documenting and sharing process plant data.
DuPont says it used a Six Sigma vendor evaluation process to select a new intelligent P&ID solution. "Our evaluation determined that OpenPlant PowerPID is the best tool on the market for producing and maintaining P&IDs," says William Ellsworth, 2D CAD integration leader, Engineering Systems, DuPont. "Its powerful and friendly user interface helps us build intelligent P&IDs in an accessible and open format so as to be readily used by our EPC partners and operations and maintenance personnel."
Our take
Process and power plant design is perhaps the most competitive branch of the CAD industry, with four major vendors battling it out. Autodesk is the newcomer, having started a plant division about 10 years ago when it realized 15% of its AutoCAD revenue came from the plant industry. Of the others, only Aveva focuses 100% on plant, while Autodesk, Bentley, and Intergraph create software for other industries as well.
DuPont says it used Six Sigma to choose a winner, but there is a special bit of history between DuPont and Bentley that might possibly have allowed a finger on the scales, so to speak. The origins of Bentley Systems go back to the early days of PCs when DuPont engineer Keith Bentley wrote a simplified version of DuPont's expensive design software from Intergraph that would run on an IBM PC. Keith Bentley received DuPont's blessing to own all rights to the software, so he and his brother Barry started Bentley Systems and introduced MicroStation to the market in 1985.