Boeing and Northrop Grumman co-sponsor the annual event to provide a neutral gathering for discussing product data quality.
Boeing and Northrop Grumman announce that free registration for industry professionals to attend the fourth annual Boeing/Northrop Grumman Global Product Data Interoperability Summit (GPDIS) will close October 15. The event will be November 12-15, in in Chandler, Arizona.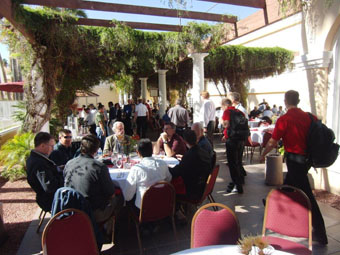 The GPDIS functions as a communications hub for industry principals to exchange ideas, solutions, and methods for eliminating product data quality gaps in the value stream. Organizers from Boeing and Northrop Grumman say the purpose of the annual summit is to "promote awareness, address tactical challenges, advance industry solutions and leverage open standards for product data interoperability." The goal is to drive common standards adoption in the global aerospace and automotive industries.
There is no attendance charge for industry professionals and supply chain partners in aerospace, automotive, shipbuilding and academia.  Anyone who works in the CAD/CAM/CAE/PLM space—commercial or academic—are invited to participate in "deep, agnostic discussions" about best practices in data management and exchange.
Presentations will include such topics as:
Cloud Security Model for the Business;
Enabling the Comprehensive Behavioral Digital Aircraft;
PDM-enabled Interoperability at Ford;
Dealing with Obsolescence-Diminishing Manufacturing Sources and Material Shortages;
Compositional Verification of Architectural Models.
The full list of speakers and topics is available at http://gpdisonline.com/schedule.html. Some sessions will be limited to Boeing or Northrop Grumman employees only.
Registration remains open until October 15th for those wishing to attend the event.  November 12 is closed sessions; open sessions run from noon on the 13th through midday on the 15th.  For further information or to register, contact event coordinator [email protected] at http://www.elysiuminc.com/.
Sponsors Exhibiting at the 2012 Global Product Data Interoperability Summit:
3D PDF Consortium
Anark
Aras Corp.
BCT Technology
Cadenas Part Solutions
Capvidia
Dassault Systèmes
Discus Software
Elysium
eQ Technologic
Hewlett Packard
ITI Transcendata
Kubotek
Lattice Technology
Microsoft
MSC Software
PTC
Siemens
SpaceClaim
TechSoft 3D
Theorem Solutions
TransMagic
T-Systems
XSB