Catia division CEO Philippe Laufer went to Stuttgart to convince designers his company knows the way forward.
By Tom Lansford
When you look at the Internet today, you will find tools to share and exchange photos, videos, and everyday life experiences. Dassault Systèmes has seen itself as a 3D company for a very long time and this company has a vision. The vision is to be the platform on which professionals and consumers are able to both create and to exchange 3D experiences.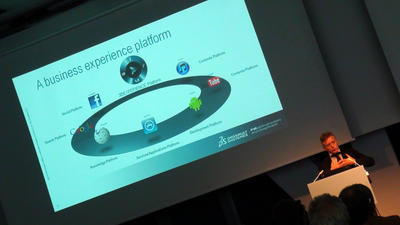 Philippe Laufer, Catia CEO, was in Stuttgart, Germany recently to greet and spend his day with designers—a very influential subset of Catia customers. He started the morning by describing to the room of nearly 200 designers Dassault Systèmes vision for the "3D Experience."
The idea of 3D as an experience may sound odd to technical professionals at first, but for designers and engineers, Laufer described it as nothing less than their ability to design, engineer, simulate, visualize, and collaborate on any given project for any given product—and to do so on a single platform. Laufer explained how various Dassault products enable this. The 3D modeling products, which the designers in the room were most familiar, work in concert with Dassault's content, visualization, and simulation products like 3DVia, Simulia, and Delmia, and also with their new business intelligence offerings acquired through Exalead and Netvibes.
All of the Dassault products will be enabled through a single platform called 3DExperience. In a later interview, Laufer provided details about the importance of meeting with the Catia designer community. The benefit is for both sides, of course. Not only could Dassault Systèmes provide detailed information about their products, developments, and strategies, they were able to provide detailed demonstrations on the products and answer individual questions throughout the day. And for Dassault, they were searching for a dialog with the community, to get feedback and to understand the needs and issues of the Catia designer community.
Laufer's visit went hand-in-hand with the announcement of a new Catia designer community Dassault is sponsoring. The community will benefit from both a physical presence as in Stuttgart at the Porsche Museum and also from an online community to continue the dialog within the community and with Dassault Systèmes.
Contributing Writer Tom Lansford is Editor of CADplace.uk and CADplace.fr, GraphicSpeak and CADplace occasionally share articles.