Expensive CAVE systems can soon be replaced by consumer-class viewers.
Dassault Systemès is at the Consumer Electronics Show (CES) this week, demonstrating how its "3DEXPERIENCE" approach to engineering can take advantage of the new generation of business oriented head-mounted display (HMD) virtual reality devices. Dassault says headsets such as the HTC Vive will soon be able to replace room-sized immersive 3D displays — such as the $100K+ CAVE system from Christie it has supported for years.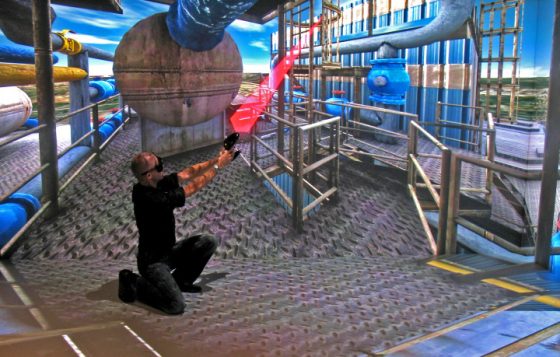 Visitors at the Dassault Systemès booth were invited to step into a virtual garage. Wearing the Vive and equipped with a handset that was both controller and wand, they would then draw inside the virtual presentation.
The current generation of design and engineering software from Dassault Systems is called the "3DEXPERIENCE Platform," which consists of Catia and a wide variety of the company's most popular and powerful products for simulation, factory design, visualization, and data management. 3D Experience platform uses can add the HTC Vive Business Edition to their list of compatible viewing devices. "Virtual reality has transcended consumer applications and is now establishing its strategic value for more informed decision-making in business," said Olivier Ribet, a Dassault vice president for high-tech engineering.
The Vive Business Edition uses a laser tracking system with sub-millimeter precision and low latency to track the user; the software side allows users to see avatars of each other in the design space. This multi-user capability of the Vive overcomes a key limitation of using HMD for CAD-related virtual reality: seeing the user or others in the visual environment.
Dassault and HTC executives at CES say it won't be long before such a setup as presented at CES can replace the use of room-size, multi-user CAVE 3D dimensional viewing spaces, such as the famous CAVE from Christie. Such systems have long been used only by the very largest manufacturers and design-centric firms such as Disney, not only because of the high cost of purchase but also the expense of upkeep.
In 2016 at CES, Dassault presented a similar virtual reality experience along with HTC, called the Dream Sketcher. A link to a video from the 2016 show is below.