There was modest growth in Europe and North America, but Asia/Pacific was disappointing. Services revenue was also down.
Dassault Systèmes has announced its results for the second quarter of 2016 and expressed modest satisfaction with its performance. The company reported revenue of €754 million, a 5% increase year over year. On the company's financial call, Dassault CFO Thibault de Tersant admitted that the quarter wasn't great, but that it fell within the range of the company's predictions. The company saw a decrease in service revenue, and they also saw Asia revenues softer than expected. However, the company talked about comparisons with last year and also deals in the pipeline and said they expected to meet their forecasts and see a strong second half in 2016.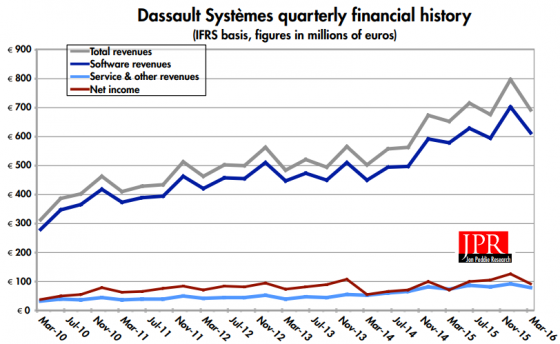 Recurring revenue has seen a slight increase and is now at 71%. Significantly, SolidWorks revenue is up 9% year over year and de Tersant credits competitive wins. SolidWorks does seem to be rising at a time when one of its main competitors, Autodesk, is revamping its sales strategy to move to subscription and also transitioning its design products to the cloud. Dassault has its own subscription plans for SolidWorks; however, SolidWorks CEO Gian Paolo Bassi pledges to provide SolidWorks customers with options in how they buy software. It should also be said that the major CAD companies are already seeing most of their software revenue coming from recurring revenue, so it's unlikely the subscriptions are as controversial as media reports may imply.
Dassault shared a chart to describe the success of the company's diversification campaign. Dassault highlighted gains in Marine & Offshore, High Tech, and Energy, Process & Utilities. Overall, Dassault's target markets for diversification include Architecture, Engineering & Construction, Consumer Goods & Retail, Consumer Packaged Goods & Retail, Energy, Process & Utilities, Finance Business Services, High Tech, Life Sciences, Marine & Offshore, and Natural Resources. In all, the diversification industries represent 31% of Dassault's revenues.
On the high end, Dassault is most optimistic about the overall movement of customers to 3D Experiences platforms. The company reports their share of customers on the most recent version has risen from 20% to 33%. Correspondingly, new license sales of the company's high-end design tool, Catia, continue to be flat. The company is seeing growth coming with Enovia, Delmia, Simulia, and Exalead.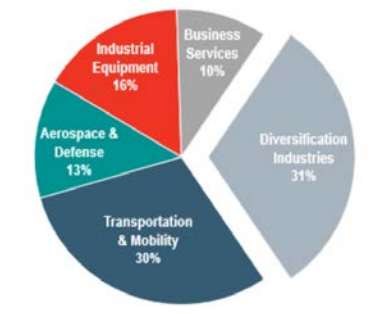 Dassault's latest acquisitions is in simulation. On July 21 DS announced the acquisition of CST, headquartered in Germany, which provides electromagnetic simulation tools. Dassault paid approximately $220 million in an all-cash transaction. CST reported approximately €47 million revenue in 2015, and it is in use at more than 2,000 companies, according to Dassault's announcement. The company's software is used in the high-tech, transportation and mobility, aerospace and defense, and energy industries to analyze and solve EM interference, compatibility, and environmental effects issues in electronics development. The company lists Airbus Defense and Space, BMW, Continental Automotive, LG, Raytheon, Samsung, and Siemens Energy among its customers. The deal is expected to close in the fourth quarter of 2016.
Dassault has also acquired Ortems, a maker of scheduling and dispatching software based in Lyon, France. It will complement the company's Delmia product line. Dassault says the privately held company made around €5 million last year in sales, evenly split between hardware and software. Customers include Airbus Helicopters, MecaPlast Group, GE Power, Merck Serono, Sanofi, Granini, and Heineken.
What do we think?
Dassault is strong. The company's ambitious 3D Experience transition has been a source of frustration to the company, and it has not happened fast. But the company's relentless optimism and marketing are beginning to show results, thanks to Enovia's conquests including Samsung Electronics and Chevron Oronite this quarter. It's interesting to see how the major PLM companies have chosen to diversify and carve out market for themselves. Dassault's Enovia has been consistently strong and pulling Catia along with it, while SolidWorks has also shown consistent growth compared to its direct competitors. Although we have not seen Dassault break into AEC, the company has expanded its simulation capabilities.
Dassault notes that it has seen double-digit new license growth in northern and southern Europe and France as well as Latin America and the U.S. Those positive results promise an overall economic uptick, which is welcome news for Dassault and its competitors.