A complicated go-to-market strategy is replaced by a single set of primary products for each industry Autodesk serves.
Autodesk has introduced the next generation of product portfolio subscriptions, dubbed Autodesk Collections. The new plan replaces Autodesk Suites, a complicated three-tier set of related products.
"Autodesk has transitioned fully to a subscription business, and our subscribers expect value, flexibility and easy access to our software," said Andrew Anagnost, senior vice president, Autodesk. "Industry collections offer the freedom to access the products you want, when you want them."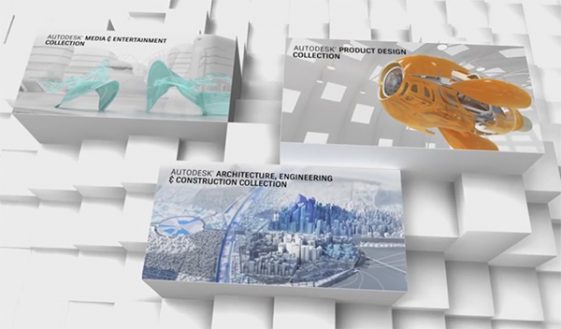 Effective immediately, subscriptions to the following three new industry collections are available:
Architecture, Engineering & Construction Collection

– A BIM package for building, civil infrastructure, and construction. The primary products include Revit, AutoCAD and AutoCAD Civil 3D.

Product Design Collection

– One set of design and engineering tools for product and factory design. The primary products include Inventor Professional, AutoCAD and Navisworks Manage as well as the latest in cloud-based design tools, Fusion 360.

Media & Entertainment Collection

– A 3D animation toolset for visual effects artists and game developers. The primary products include Maya and 3ds Max.
All Autodesk products are also available individually by subscription, including such specialized products as simulation or data management tools, cloud services, and administrative tools. Autodesk will no longer sell Design & Creation Suites; however, customers on subscription and maintenance plans for suites will continue to receive updates.
Customers can choose from monthly, quarterly, or annual lengths when they purchase a subscription via their local reseller or direct from Autodesk. Additionally, customers can choose to subscribe to collections with single-user access (individual) or multi-user access (shared).
What do we think?
When Autodesk first offered suites, even before converting to subscriptions, they made a surprising (to them) discovery; customers who were traditionally only buying AutoCAD LT (the company's top selling single product) were taking advantage of suites to try other software for the first time. Now that Autodesk has streamlined Suites into Collections, they will probably continue to reap the benefit of discovery of new-to-you software products.