With Autodesk adding the Arnold render to Maya, Nvidia pledges to maintain Mental Ray for its shared customers. 
This year at Siggraph, Nvidia announced that they are taking over Mental Ray from Autodesk. The first official announcement is for Nvidia's upcoming Mental Ray for Maya. The transition follows Autodesk's acquisition of the Arnold renderer, and at Siggraph Autodesk demonstrated Arnold running in Maya. However, Autodesk also pledged to continue to support other renderers as they have all along.
So, for Nvidia's part, the company is pledging to maintain Mental Ray just like it was their very own, which, of course it is and has been since Nvidia acquired the company in 2007. Autodesk and Nvidia basically collaborated on Mental Ray while the product was included in Maya.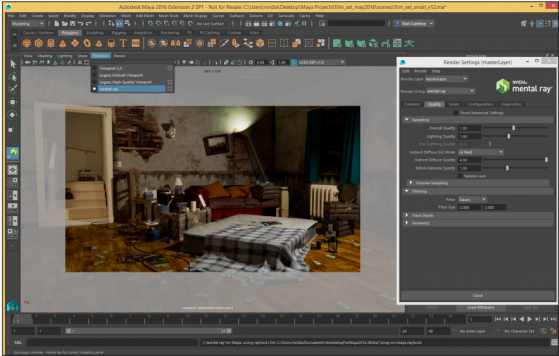 Nvidia demonstrated its commitment to Mental Ray for Maya with a demonstration of its Global Rendering technology called GI Next, which uses GPU acceleration for global illumination. With Nvidia's acceleration of Global Illumination, Nvidia says a rendering like the room pictured above with GI turned on can take as long as an hour and 45 minutes to render on the CPU, but Nvidia's GPU acceleration can reduce the time to around 17 minutes. So, depending on how much global illumination is used in a scene, Nvidia's GI Next technology can speed up rendering. Nvidia says taking advantage of the GPU means global illumination runs 20x faster.
Nvidia's coming version has a special viewport mode that includes GI acceleration and also fast resolution of the model to give artists the ability to interactively work with a model and update it. GI Next will also work with all the shaders artists already have. Mental Ray for Maya is available as a beta now, and Nvidia says it will be widely available in the fall.
SDK updates
Companies that build processors will tell you they are as much software developers because a processor is just an expensive hunk of silicon and circuitry. Nvidia has put a concerted effort into software as a bonus and differentiator for customers. "'We have to do more than just provide GPUs," says Nvidia VP and GM ProViz/Quadro Bob Pette. He noted the professional group has identified several major themes including larger datasets, virtual reality, artificial intelligence, and photorealism. Taking a jab at their software partners who move more slowly than hardware developers might wish, Pette said that "when the ISV doesn't step up, then it's Nvidia's strategy to get in there and enable it." The comment is especially pointed considering Autodesk's acquisition and implementation of the Arnold renderer after a long and not always happy relationship with Mental Ray.
At Siggraph, Nvidia had a low-key announcement for the press to highlight the work the company has been doing on its SDKs—followed up by big, loud parties.
VR was, of course, a major focus for Nvidia at Siggraph, and the company showed technology for working with content from 3D cameras. For instance, they took content from two Black Magic cameras and created a panorama that can be seen in VR. They also showed a viewer that allows a person to turn on and off lights, change the time of day, and add actions, all without re-rendering. Nvidia talked about this so-far-unnamed view as a way to connect different panoramas in portals.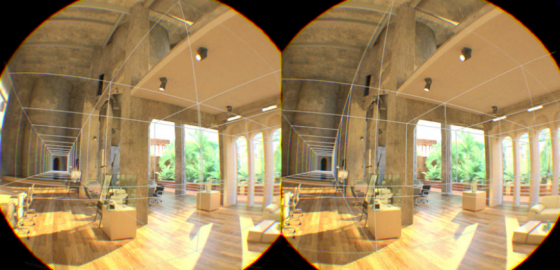 Iray 2016.2 GPU. The latest update for the iRay SDK brings it up to date with Pascal-generation processors, adds stereographic views for a single render, one-step panoramas, support for VR creation using Quadro VCA, or DGX 1. Nvidia has also added support for measured materials using the X-Rite AxF 1.3 format.
VRWorks 360 Video. Includes accelerated stitching, calibration, and warping for real-time 360-degree VR experiences. Nvidia says the leading graphics engine companies including Unity and Unreal Engines are adopting VRWorks to enable developers to take advantage of the SDK in their games and applications. VRWorks also includes SDKs to accelerate 360 capture and enhance VR environments such as caves, immersive displays, and clusters.
OptiX 4.0 Framework. For optimal ray-tracing performance. Nvidia has added support for its Tesla-powered DGX-1 "supercomputer in a box" and NVLink, a communications protocol enabling high-speed connections to GPUs and memory.
MDL SDK. Enables consistent appearance of physically based materials in design applications. Nsight Visual Studio Edition. Enables GPU compute development in Microsoft's Visual Studio and has been updated with support for Vulkan and Nvidia Pascal.
"We want to make it easier for customers to use Nvidia's products," says Pette. "It is the consumers of that technology who will drive it," he says, describing how more people will be able to visualize their car before they drive it or walk around their new house before it's built.
Nvidia also demonstrated a technology project from Adobe called Wetbrush, which visually simulates oil painting. It's a 3D representation of paint with the reflective qualities of wet oil paint, and also depth and blending. It takes advantage of processor-heavy technologies such as fluid dynamics. While demonstrating Wetbrush at the press conference, the company said it could be possible to create a 3D print of a painting that would seem much more realistic than a flat print, so someday soon, you might want to double-check that bargain Vermeer. The point, of course, is that Adobe is taking advantage of Nvidia's Cuda technology to accelerate the simulation in Wetbrush.
The theme for Nvidia at Siggraph was simple—we're on the side of the designer. "This is where we will continue to reserve our major announcements," said Pette. Siggraph, he said, is about the realism that professionals demand, rather than the realism that gamers will accept. "There are still a lot of challenges out there," he said.
What do we think?
It may not have been exactly as planned, but Nvidia is getting exactly what it wants as it takes over control of Mental Ray, because it can further the cause of GPU acceleration at a time when the stars and Hollywood are aligned in real-time performance.