Enovia PLM sales were up higher than expected. The year-ago comparisons are healthy despite the end of the IBM PLM acquisition boost, except for like-quarter growth. 
[Editor's Note: The US Dollar to Euro exchange rate used in this article is $1 = € 0.7092.]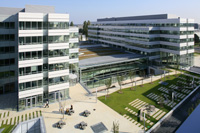 Dassault Systèmes (Euronext Paris: DSY.PA) reported total revenue of €432.8 million ($610.2 million) for the third quarter of 2011, (ending September 30, 2011), up 7% from 3Q'10. In constant currencies, growth was 11% year-over-year. This is the first quarter without a significant boost from the acquisition of IBM PLM Software, which was formerly Dassault's largest reseller.
Net income for the quarter was €76.4 million ($107.7 million), up 37% from 3Q'10.
Total software revenue was €394.2 million ($555.8 million) in the quarter. Of that, new license revenue was €100.2 million ($141.3 million) and recurring license revenue was €294 million ($414.5 million). Total services and other revenue was €38.6 million ($54.4 million).
Revenue by product category, and year-over-year growth in constant currencies:
Catia: €182 million ($257.3 million), up 9%
Enovia PLM: €55.3 million ($78 million), up 12%
Other PLM: €72 million ($101.5 million), up 24%
SolidWorks: €84.4 million ($119 million), up 11%
The Enovia PLM line showed another strong quarter of growth; the company said it is finding success for its V6 PLM solutions in non-traditional PLM markets such as consumer product goods. Much of Dassault's traditional base in aero/auto are for now sticking with the V5 platform.
Revenue by regions, and percentage growth from 3Q'10:
Americas:  €116 million ($163.6 million), 0%
Europe: €200.6 million ($282.8 million), up 16%
Asia/Pacific: €116.2 million ($163.8 million), up 2%
Cash per share on September 30, 2011 was $13.39, continuing an upward trend. CPS was $11.87 three months ago and $10.83 six months ago.
Growth slumping
Take a look at our first chart below, "Dassault Systemes quarterly revenue growth." For both Dassault as a whole and for the SolidWorks division, this is the second straight quarter in which like-quarter growth has dropped. The last time that happened was December 2008, when the recession hit the software industry like a runaway train. The drop in percentage growth is not as steep as is was in 2008, but it bears watching.
Eight of our custom charts follow.
L. Stephen Wolfe, P.E., a Contributing Analyst for Jon Peddie Research, contributed research for this article.