Windchill PLM led revenue growth, with CAD revenue picking up due to the launch of next-generation Creo. Management is modestly bullish about the coming year.
PTC (PMTC: NASDAQ) reported a strong finish in its fourth quarter (ending September 30, 2011), helping the company set an annual revenue record at $1.17 billion. Overall revenue was led by the continued strength of the Windchill PLM product line, which PTC says continues to be a door-opener to new accounts. It says it landed 30 "domino" accounts in FY 2011, which it defines as "competitive wins for PTC at some of the world's largest discrete manufacturing companies … whose incumbent PLM solutions are not PTC products."
PTC stock was trading up 17% to $21.25 in early trading following the report.
In the fourth quarter, total revenue was $339.4 million, up 26.6% from 4Q'10. License revenue was $111 million, up 25% from a year earlier. Services and maintenance revenue was $228.4 million, up 49% from 4Q'10. PTC also divides its revenue into Desktop (primarily CAD, but also most sales from the Arbortext and Mathcad product lines) and Enterprise (Windchill PLM, Integrity, and some product sales from other lines). Desktop revenue in 4Q'11 was $169 million, up 17% year-over-year. Enterprise revenue was $172.5 million, up 39% from a year ago.
For Fiscal Year 2011 (ending September 30, 2011), the record revenue of $1.17 billion was 15.5% higher than the $1.09 billion achieved in FY 2010.
Net income for 4Q'11 was $37.6 million; PTC recorded a rare net loss in 4Q'10 due to a combination factors hitting at the same time, making the percentage comparison meaningless.  (For more information about PTC in 4Q'10, see the GraphicSpeak article, "PTC's upturn continues.") For FY 2011 net income was $85.4 million, up from $24.4 million a year earlier.
The following chart supplied by PTC (and confirmed by our own analysis) breaks down revenue into four quadrants:
Desktop Direct Sales
Desktop Indirect Sales
Enterprise Direct Sales
Enterprise Indirect Sales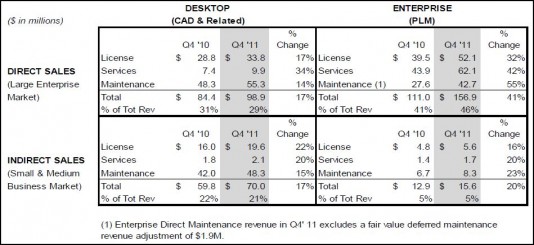 PTC is perhaps the most geographically balanced of the leading CAD/PLM companies. In 4Q'11:  North America revenue was $130.1 million, 38% of total revenue;
Asia/Pacific revenue was $76.9 million, 23% of total revenue;
Europe revenue was $132.4 million, 39% of total revenue.
Despite recent turbulence for many currencies, PTC reports that currency fluctuations favorably impacted 4Q'11 revenue by $20.4 million. Measured on a constant currency basis, PTC revenue was up 20% in FY 2011.
When speaking to analysts about the quarter, CEO James Heppelmann said PTC scored 30 large deals (defined as "recognized license plus services revenue of more than $1 million") in 4Q'11, for a total of 103 such deals in the fiscal year. There was no indication as to the breakdown between CAD and PLM.
Headcount is at an all-time PTC high, at 6,122 compared to 5,317 a year ago. Heppelmann said PTC anticipates a stable year but has slowed down hiring and some of its discretionary spending as a precaution.
Cash per share on September 30, 2011 was $1.43, down from sharply from $2.19 three months ago and $2.20 six months ago. The difference is largely due to the two recent acquisitions and should rebound.
In review
James Heppelmann came to PTC as a result of acquisition of the technology that became Windchill in 1998; over time Windchill displaced Pro/Engineer as the sales growth engine. The current refresh of the PTC CAD line, with new Creo replacing Pro/E and CoCreate, is a work in progress. In the long run Creo will help PTC keep its CAD percentage sales growth in the high single digits, but is not likely to open doors the way Windchill does.
During the year PTC acquired MKS for its Integrity, which does for embedded software what PLM does for models and products. PTC said the Integrity line did "better than expected" in the portion of FY 2011 that it belonged to PTC, and expects great things from the division in FY 2012. Recently PTC acquired 4CS, a "service information solution" line which PTC says complements its existing Arbortext product documentation line.
Six of our custom charts follow.
L. Stephen Wolfe, P.E., a Jon Peddie Research Consulting Analyst, contributed research for this report.