Intel led the quarter with 36.5% growth, Nvidia had 30% growth, according to Jon Peddie Research.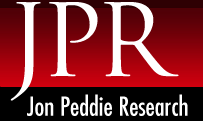 Graphics chips and component manufacturers recorded a strong third quarter, according to the new market report released today by Jon Peddie Research.  Market volume returned to normal seasonality, and was higher on both sequential and year-over-year comparisons.  2011 remains an unusual year for the PC and graphics suppliers as businesses take their own path to recovery.

During the quarter (ending September 30, 2011) Intel celebrated its seventh quarter of embedded processor graphics CPU shipments (EPG, a multi-chip design that combined a graphics processor and CPU in the same package), and had strong double-digit growth in desktops and notebooks.

AMD lost in overall market share while Intel gained more compared to last quarter; Nvidia declined due to exiting from the integrated segments. Year-to-year in 3Q Intel market share increased (9.5%), AMD broke even, and Nvidia dropped 23% but gained 10.9% in desktop discrete.

The quarter's change in total shipments from last quarter increased 16.7%, above the ten-year average of 13.9%.

AMD's HPU (Heterogeneous Processor Units) quarter-to-quarter growth has been extraordinary at an average of 58.4% for desktop and notebook, and Intel's EPG growth was significant at an average of 23.6%. JPR says this is a clear showing of the industry's affirmation of the value of CPUs with embedded graphics and is in line with JPR forecasts. The major, and logical, impact is on older IGPs, and some on low-end low-cost add-in boards (AIBs).

Almost 92 million PCs shipped worldwide in 3Q'11, an increase of 8.8% compared to last quarter (based on an average of reports from Dataquest, IDC, and HSI).

At least one and often two GPUs are present in every PC shipped. It can take the form of a discrete chip, a GPU integrated in the chipset, or a GPU embedded in the CPU. The average has grown from 115% in 2001 to almost 160% GPUs per PC.

JPR considers the sales volume of discrete graphics processing unit (GPUs) chips and other chips with graphics (integrated graphics processor chipsets-IGPs, x86 CPU-HPUs, and x86 CPU embedded processor units) to be a leading indicator for the PC market.

As shown in the table below, market share has shifted among the big three, and put pressure on the smaller three. Intel continues to be the overall market share leader, elevated by Core i5 EPG CPUs, Sandy Bridge, and Pineview Atom sales for netbooks. AMD lost market share quarter-to quarter and Nvidia lost share. Nvidia is exiting the integrated graphics segments and shifting focus to discrete GPUs. The company showed significant discrete market share gain (30% qtr-qtr). Nvidia credits strong connect with new Intel Sandy Bridge notebooks. Ironically Nvidia enjoyed some serendipitous sales of IGPs in Q3 due to some older AMD CPU sales in Asia.

AMD's overall graphics market share dropped 0.3% from last quarter even though the company's HPU class Fusion APU processors are selling very well.
| | | | | | |
| --- | --- | --- | --- | --- | --- |
| | Market share this quarter | Market share last Qtr | Unit Change Qtr-Qtr | Share Change Qtr-Qtr | Market Share last yr |
| AMD | 23.0% | 24.4% | 9.9% | -5.9% | 23.0% |
| Intel | 60.4% | 54.8% | 28.5% | 10.1% | 55.1% |
| Nvidia | 16.1% | 20.1% | -6.2% | -19.6% | 21.0% |
| Matrox | 0.04% | 0.0% | 0.0% | -14.3% | 0.1% |
| SiS | 0.0% | 0.0% | 0.0% | 0.0% | 0.0% |
| VIA/S3 | 0.5% | 0.6% | -8.9% | -22.0% | 0.8% |
| Total | 100.0% | 100.0% | 16.7% | | 100.0% |
Year-to-year for the quarter the market increased. Shipments increased to 138.5 million units, up 21.5 million units from this quarter last year.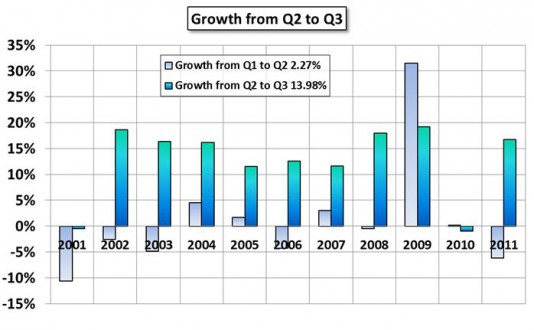 Market report pricing and availability
The Q3'11 edition of Jon Peddie Research's Market Watch is available now in both electronic and hard copy editions, and can be purchased for $995. Included with this report is an Excel workbook with the data used to create the charts, the charts themselves, and supplemental information. The annual subscription price for JPR's Market Watch is $3,500 and includes four quarterly issues. Full subscribers to JPR services receive Jon Peddie Research Tech Watch (the company's bi-weekly report) and a copy of Market Watch as part of their subscription. For information about purchasing Market Watch, please call 415/435-9368 or visit the Jon Peddie Research website at www.jonpeddie.com.Contact Robert Dow at JPR ([email protected]) for a free sample of Tech Watch.