Dassault's third quarter results are better than they look say CEO Bernard Charlès and he's got a point. Europe continues to suffer economic aftershocks and the company is going through several major transitions and assimilating acquisitions. Given all that, the company's steady performance actually looks pretty good. 
Dassault Systèmes is the largest enterprise CAD/PLM provider in terms of revenue. It has been a juggernaut, but over the past five years the company has been interested in redefining their approach to their markets and finding new markets. Dassault has traditionally grown through acquisition, one might think of it as the company's natural dynamic and the pace has been picking up. The company has been involved in considerable reinvention. In May 2014, Dassault combined its newly acquired Accelrys group with other elements from the company that fall under the heading of BioPLM  to form its new Biovia group. Recently the company has bought Quintiq, to fill out its Delmia manufacturing simulation brand. Quintiq develops supply chain planning and optimization tools. In general, Dassault has been able to show solid gains while investing in new markets and technologies.
The company describes its performance for the third quarter of 2014 as "solid." In the company's financial call, CEO Bernard Charlès said the revenue of €562.1 million "well in line with our objectives," and that operating margin and EPS were slightly ahead of expectations. The company's revenues are flat compared to the previous quarter, but up 14% year over year. Charlès says that given the conditions in Europe including financial exchange rates, "Our earnings dynamic is much stronger than the reported figures indicated," adding the company is facing "significant currency headwinds."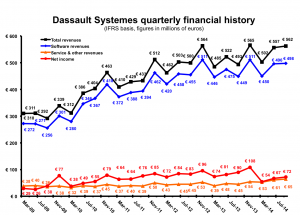 For this period, Dassault is focusing on license growth and the company has seen a nice uptick in license sales. New license growth is up 14% in the third quarter and the company reports double-digit growth in Catia and Enovia licenses. We're thinking the company is making deals on these licenses since the revenue for Catia and Enovia compared to the same quarter last year is flattish.
In addition says Charlès, the company is seeing traction in direct sales and a sharp increase in large account new sales.
Plans for the future
In his call to investors, Charlès said Dassault is not acquiring companies for the past but to build new products and capabilities for the future – to be a "game changer" — and that's exactly what investors were interested in hearing about. Dassault's competitors are investing heavily in system design to complement their product design, and investors want to know what Dassault is doing on that front. Charlès told them, we've been doing it. Pointing to the company's legacy in the aeronautic and defense industries, Charlès says system engineering has always been an important part of the process especially as they develop unmanned vehicles and equipment that needs to communicate. He says this was not something the company talked about since it was often secret work with companies.
As systems engineering becomes an integrated part of other markets Dassault is involved in, such as automotive, Charlès says it is talking more about it, "Now we decided to reveal those programs when we introduced the solutions for the smart and connected vehicles in the automotive sector, and also for the High-Tech and Energy, energy like wind equipment where you need to do remote health management and monitoring control."
Dassault is a key partner in AUTOSAR and the company says the American, European, and Japanese companies are adopting the AUTOSAR standards for automotive software systems. And, Charlès is quick to mention, that the company is also getting involved in development for the Internet of Things. He promised the subject will get a lot of play at the company's Solidworks world conference coming up in February
What do we think?
Dassault is coming off a successful launch of the Solidworks 2015 line. The company has been going through several significant transitions including a more streamlined command and control from the company's Paris HQ through its many divisions. It is establishing new businesses including Biovia and strengthening other groups, so it's noteworthy the company is keeping its bottom line stable.
As is being said regularly these days, we're in the middle of a major inflection point today as a new digital revolution takes hold. The PLM companies are each striking out in unique paths as they adjust to new technologies. That in itself is unique, but it makes it difficult to evaluate the companies' competitive positions against each other. There are many places where they hardly compete at all. So maybe Bernard Charlés is right when he says Dassault is not taking a back seat to its competitors in systems engineering, but we're seeing a  fragmented market as companies each pursue the areas in which they are strongest.
There are opportunities for everyone as major technology shifts very literally redefine long established businesses in CAD/PLM. There are new opportunities for everyone, but Dassault is not giving an inch either.
L. Stephen Wolfe, P.E., a contributing analyst for Jon Peddie Research, provided research and insight for this article. His charts are included in the body of this article and also below.