The design platform favored by the enterprise-class design-build and infrastructure firms  will use the cloud without living on it.
This week in London Bentley Systems is introducing the next generation of its technology for enterprise-scale design, construction, and operations. Dubbed "CONNECT Edition," the multi-year rollout of new technology across the diverse Bentley line will begin with its foundational CAD platform MicroStation and its data management siblings ProjectWise and AssetWise.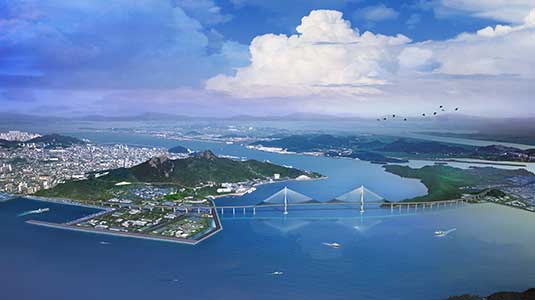 Perhaps the biggest news of all about the next edition of MicroStation is a non-announcement. The file format used in MicroStation to store data, .dgn, will not change.  In the 30-year history of Bentley Systems, .dgn has changed three times. Compare this to the .dwg file format popularized by Autodesk AutoCAD and used by hundreds of other products (including MicroStation), which has changed 19 times over a similar period, each change forcing users and competitors to adapt. 
Bentley says it will take well into 2016 before all of its more than 100 products are updated, which is fine by its clients. Years ago Bentley, the largest AEC-specific software company, set on a divergent path from its major competitor Autodesk by focusing on the design and engineering needs of the largest companies and government agencies. Unlike software for smaller companies or individual users, Bentley user sites generally buy their subscriptions and licenses by the hundreds as they create railroads, dams, power plants, and skyscrapers; these enterprise-class users prefer to upgrade their software based on internal issues, not a software company's release cycle. 
Long-time MicroStation product marketing manager David Huie says there are three themes guiding the development of MicroStation Connect Edition: innovation for models, innovation for deliverables, and innovation for user connectivity. At this point Huie and others at Bentley are still talking more in generalities than specifics regarding MicroStation Connect, which will go out to a small number of beta test sites in the next three months.
MicroStation uses the Parasolid 3D modeling kernel from Siemens PLM as its core geometry engine. In this update MicroStation will take better advantage of the parametric technology in Parasolid to allow for functional components, symbols of commonly drawn elements. Instead of having 100 pump components from a single vendor individually drawn, there can be 1 component of a pump that can be modified as needed by changing a variable or two. Increased use of parametric design will also apply to drafting in general, allowing techniques more common to mechanical CAD products to be used in MicroStation. Initially the new parametric features will apply to solids; other geometries such as mesh or point clouds will be updated later.
Related to the introduction of functional components is a new cloud-based service called ProjectWise Catalog Service, where MicroStation uses and product vendors can post and share components. The service can also be used as a private facility to share within a project.
Bentley is big on promoting interoperability. MicroStation supports the AutoCAD .dwg file format as a native file type in addition to its own .dgn format. The company's revolutionary iModels technology is a bi-directional wrapper for sharing multiple data types, including PDF and Revit models. In the update, MicroStation will add property-driven reporting to its arsenal, allowing data from any project source to be automatically updated when it changes, whether that change comes from within MicroStation or from an outside source such as an Excel spreadsheet or a Revit model. There are also a variety of tweaks to the tools used to create and manage sheet sets, the common method of sending out design data to construction teams. "We are trying to automate as much as possible in the tedious task of creating deliverables," notes Huie.
A variety of user experience features are coming in MicroStation Connect Edition, including the ribbon interface, progressive and suggestive search, and the ability to see who else is working on a project when a model or drawing is opened. The software can also recommend other products in the vast Bentley line, open a direct connection to MicroStation user community sites, or suggest learning modules to help master a specific task.
One subtle design change may have large ramifications for all members of the project; for this reason, all drawings or models are now automatically understood to exist in the context of a project. Because a drawing "knows" it is part of a specific project, it becomes easier to apply social technology to the integration of the drawing and the user into the larger project and user community.
Embedded in MicroStation Connect Edition is the ability to work with other Bentley products not only through the ProjectWise project management platform, but the Microsoft Azure Cloud platform. Bentley says it has no current plans to make MicroStation a cloud-based product, but does see cloud as a great technology to connect project teams. Much more cloud enablement comes into play as MicroStation users publish to mobile devices or share information to stakeholders who may not necessarily be Bentley software users. As Bentley senior vice president Bhupinder Singh said at the Bentley Year in Infrastructure conference yesterday, "With the Connect Edition, we are intrinsically availing cloud-based capabilities throughout the software and services we provide, to advance projects through a new 'connected user experience.'"