Highly regulated manufacturers have the most to gain by enabling "digital continuity."
Dassault Systèmes has acquired software partner Intercim, maker of enterprise-class software for manufacturing operations management. The deal consummates a close partnership between the two that goes back nearly 10 years, and brings joy to star customer Boeing as it seeks to shorten the time between Built and Shipped.
Intercim enables production engineers, workers, inspectors and the supply network to automate how they define manufacturing processes, execute shop orders, manage non-conformance and ensure quality. Existing customers are using Intercim's real-time control and intelligence on manufacturing operations over multiple plants to achieve Lean Manufacturing goals quicker and accelerate time-to-market.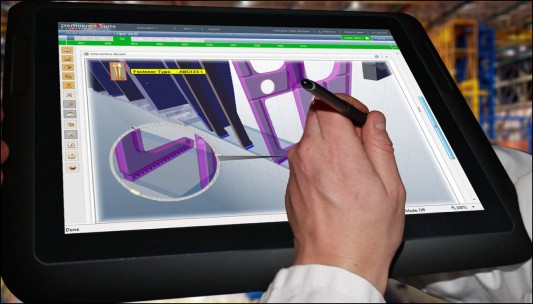 The deal will make it easier for Dassault to extend its 3D PLM all the way to the factory floor, with benefits for design engineers, manufacturing engineers, the guys assembling aircraft on the factory floor, and the federal regulators who watch over them all. Having Intercim software inside Dassault, instead of as a partner, makes it easier to fine tune their "digital continuity" two-way data loop between engineering and factory operations.
The deal is valued at $36.5 million; Dassault Systèmes already owned an unspecified minority stake, decreasing the outlay for complete acquisition.
Dassault's Patrick Michel says the purchase was strategic. By combining Dassault's existing Delmia 3D software for factory floor planning with Intercim's shop floor operations, they can put the finishing touches on software that constantly provides two-way reports on manufacturing conformity and automatically prepared the Federal Aeronautics Administration required "ticket" that certifies the aircraft is exactly as engineered and ready to be delivered. The FAA has already signed off on the process.
Dassault sees this technology as "especially relevant for the aerospace and life sciences industries where safety is a major challenge in and beyond the manufacturing process." In other words, where government regulation is the heaviest. Dassault doesn't have to pitch Boeing on the benefits. In a rare statement in support of a software vendor, Boeing's Nancy Bailey, Vice President of Product Systems for Boeing, says, "We are pleased to see Dassault Systèmes taking this step to extend its PLM product offering to include Manufacturing Execution capability. As one of our large key suppliers, we anticipate greater company stability in support of the Velocity system used by the 787 program and look forward to additional innovations in this area."
Taking the next step
Dassault and Intercim have been working with joint customers, including Boeing, for several years, and will officially announce a deal with Brazilian aerospace firm Embraer soon. The goal has been the two-way, bi-directional, 3D flow of information between engineering and the factory. "It is no coincidence we started in aerospace," says Romain Lavault, a former aerospace engineer who went to work for Intercim. "[In aerospace] you can't throw information and processes over the wall. Engineers always have to know what's going on." If an assembly worker gets stuck on something, the call goes out for an engineering expert, a process that can take hours even when everyone involved is in the same building. "But now there are people spread out across the globe; we need to abolish distance."
Lavault says the need for digital continuity is not just for the manufacturing process. Improved workflow for regulatory compliance will be another big benefit from this merging of technologies. The old workflow for regulatory compliance in aerospace starts when engineers define specifications which are then pushed to the shop floor. As an aircraft is assembled, the manufacturing team has to verify every part is installed as specified, a process that takes two or three days for each aircraft. Boeing calls this "ticketing;" it is a process of looking at the Bill of Materials and manually inspecting the aircraft. During those three days a $150 million aircraft is sitting idly waiting for paperwork before it can be delivered. Lavault says that with digital continuity in place, the ticketing process is streamlined because all engineering specifications plans are on the floor. As the aircraft is assembled, data is captured verifying what is installed. When the aircraft is finished, so is the ticketing.
The FAA has already certified the Intercim method as valid. The FAA can log into the system during manufacturing. If there is a factory inspection, the FAA inspector is handed a tablet computer and an FAA ticket number. As questions come up, the inspector can log in. In effect, regulatory oversight is part of the digital continuity process.
Lavault says the application of this digital continuity approach is in its infancy in aerospace; "We have the entire aerospace arena to conquer." The value proposition is immediate in aerospace, Lavault says, but the ideas behind digital continuity will also work well in other industries with high regulatory oversight, like pharmaceuticals.
What we think
The phrase "silos of innovation" used to be very popular when PLM companies were first making their pitch for controlling manufacturing data. As it turns out, the shop floor has remained pretty much a silo; many companies that otherwise have fully digital engineering basically throw their data into a black hole for assembly. Dassault's idea of 3D digital continuity is like extending a four-lane Interstate highway into a region that has only known single-lane dirt roads. If the assembly crew finds a problem that only engineering can solve, the old method was to send a hand markup drawing upstream. Now the shop can annotate a 3D digital mockup, keeping the information in the PLM system for the benefit of all, not just for engineering as in the past.
The biggest problem is that the software matures faster than the hardware. The new crop of tablets will be welcome in manufacturing operations, as long as Dassault and their peers can rapidly incorporate them into the PLM ecosphere.