A pioneer in PC graphics keeps its user base happy.
By Kathleen Maher
CorelDraw first shipped in 1989. It is one of the seminal software programs of the Windows era, which officially kicked off with the shipment of Windows 1.0 in 1985. At around the same time, Adobe introduced Illustrator (1987) and Photoshop (1988). During this peaceful pre-3D era, these three products turned the average personal computer into a professional tool for artists and photographers and helped kick off the demand for modern PC graphics for all computers—not just workstations and high-end machines. Graphics software got the ball rolling, and the game industry picked it up and kept running with it.
Now, more than a quarter of a century later, these products are still essential tools for professionals. Corel has found a dedicated core audience for its CorelDraw product by keeping (mostly) true to its Windows roots. There were forays over to the Apple side in an effort to present a Mac-based alternative to Adobe, but it was a relatively short trip.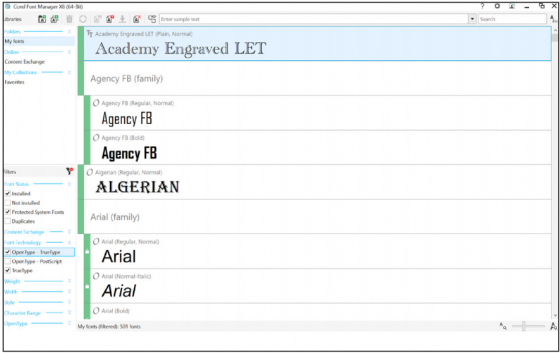 CorelDraw is actually a big box of software—or was, when there was such a thing as a box of software; now it's a big download. The CorelDraw X8 Suite now includes: Photo-Paint for photo retouching and editing; Font Manager, the new module that organizes and provides access to fonts whether they're installed on the system or not; PowerTrace, a raster-to-vector conversion tool; Connect for access to outside resources for stock art and photos; Capture, a screen capture tool Corel offered years before anyone even heard of TechSmith's SnagIt or Windows Snipping Tool; and Corel WebSite Creator.
Corel has found and nurtured a different breed of customer from those who gravitated to Apple and to the Adobe products. Corel has found niches in industrial applications, most notably in sign-making, engraving, apparel/fashion, and business graphics, as well as more traditional fields like fine arts and illustration. Corel has also attracted occasional users and hobbyists, who are drawn to Corel's comparatively lower pricing. Also, Corel has a reputation for ease of use. However, it's useful to remember that the leading imaging and illustration products are decades old. They've grown to be extremely capable programs, but ease of use is in the head of the user.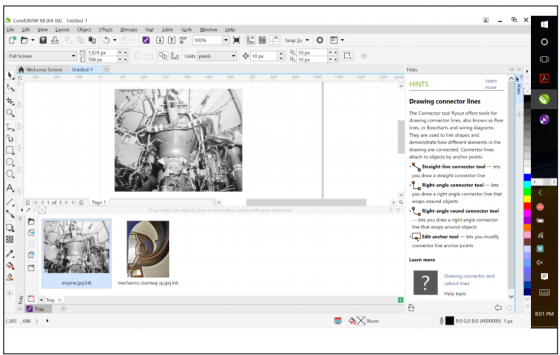 For a while, Corel courted refugees who have fled Adobe's subscription policies, and the company makes a point of its flexibility in offering perpetual licenses. The company has also added subscriptions: a perpetual license is $499, and a subscription is $198 per year. Customers are coming around to subscription. Adobe has sweet-talked its base with multiple upgrades and new products. Now that the furor has died down around the subscription issue, Corel will probably find itself challenged to add new features to justify subscriptions rather than provide an alternative to those who'd rather die than subscribe. Software vendors love subscriptions because it's more profitable in the long run and subscriptions keep moving the user base along the same path with the most recent products. Otherwise, companies have customers using older products, and they become harder to support and upgrades become more difficult, if not impossible. Corel has quite a few users who aren't interested in upgrading; the program works for them, and they'll stay where they are. Many of these people are using the tool for work. They're not interested in learning new methods.
The changes Corel has made in the latest version of CorelDraw will appeal to the company's core users, and new users won't be scared off. Corel's additions to the Photo-Paint module bring it up to speed with competitive products.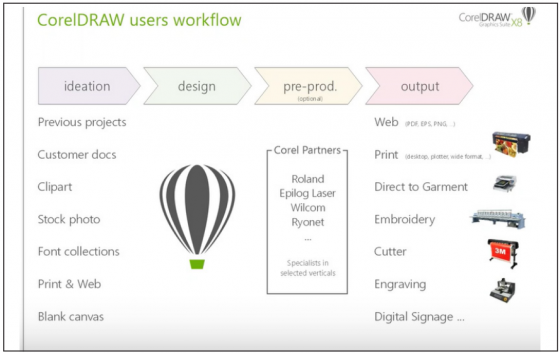 Probably the strongest pitch Corel has for users is the CorelDraw X8's support for Windows 10. In his introduction of the new product, Corel's Gerard Metrailler said Corel has seen over 25% of its base make the transition to Windows 10. Windows 10 means touch, and in addition to its longtime support for the Wacom pen input devices, Corel's support for Windows 10 means added support for the pens made for Windows machines, including the pens for the Surface Pro machines. I tried the feature out on the new Lenovo Yoga workstation I've been using, and the added sensitivity is fun, but it requires a little setup, and that's not obvious. The pressure sensitivity extends to the included Photo-Paint module as well.
Corel has also added support for high-definition displays. As the digital world moves to 4K, not all software is making the move, and the result can make for miserable experiences for users. Support for 4K displays means that users can get the full benefit for 4K display with lots and lots of teeny tiny, little bitty, very pretty pixels and normal-sized interface features so its users get beautiful images and text they can read.
Support for Windows 10 has also given CorelDraw better multi-monitor support, so in addition to supporting high-DPI monitors like 4K monitors, users can combine monitors with lower resolutions with higher resolutions, and as windows are moved to the different monitors, they adjust to the proper view.
The type management tool seems like a dead obvious feature, but that doesn't mean it's not useful. The type manager is a separate module, which makes sense since CorelDraw includes several products in addition to the base illustration product. So, if you were working on a project that included photos, it's nice to have a central place to organize your fonts. And indeed, the strength of the new type management tool is the ability to quickly see what fonts you have, what fonts are installed, and there is a personalized section allowing you to group tools according to project, or to identify favorites. The other feature that's nice—especially since a lot of Corel's fonts aren't necessarily part of the standard font canon (but they're close enough)—is the ability to search for fonts according to their weight, serif versus sans serif, and by characteristics like script, decorative, etc.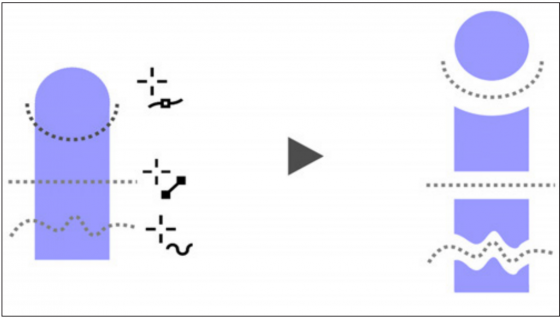 There are little tweaks that add to the flexibility of CorelDraw. Users can cut parts of line drawings to reuse and paste. The look of drop shadows has been improved with Gaussian blur. In a tip of the hat to an important segment of users, Corel has improved the knife tool, enabling users to cut images and define a specific gap or overlap (see figure). This feature is useful for sign makers. For instance, it makes the process of creating and applying wraps for busses, buildings, and cars.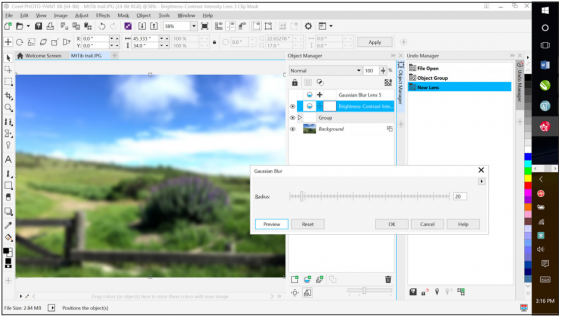 New for Photo-Paint
Several new features have been added to Photo-Paint. The product is similar to Photoshop, but it's also similar to Corel's own PaintShop Pro. When you ask Corel representatives why they need more than one photo-imaging software application, they'll make a lot of noise about each product having a different set-up and that Photo-Paint's features are more directed at people using illustration tools. No doubt that's true, but it seems like the features being added to Photo-Paint are some of the nicer features that PaintShop Pro has had for a while. Photo-Paint seemed to languish a bit, so it's nice to see the product being brought up to speed.
The Gaussian blur lens adds an overlay to the image so the blur can be applied without changing the underlying picture (see figure). It's similar to what Adobe and PaintShop Pro will call an adjustment layer. Photo-Paint has several other lens options, such as color, black and white, desaturate, and pixelate.
Corel has added cloning tools that let users erase unwanted elements. It also has added perspective correction so pictures taken looking up at tall buildings can be fixed to appear to be straight. We're often using this feature to fix images taken of presentation slides at less-than-ideal angles. The vertical perspective tool can make them look pretty respectable.
What do we think? 
The graphics industry needs Corel. The company doesn't forget its niche users, and it forges tools that are designed for the people using them. The company is a tad reactive—it builds products in response to requests or in order to stay competitive. However, its tools are very useful, very targeted, and they help build bridges for crafts people.
More important, I think, is that as I worked with these tools, I realized they do form an acceptable set of products to replace those of Adobe. They're not as slick, they can be slower, but they are more than capable, with some features that Adobe doesn't have such as the raster-to-vector conversion tools and the tools for sign making. Its capture tool, which performs screen captures and can record presentations or step-by-step processes on the computer for training, has already become indispensable (even though I hardly talked about it).