AMD increased notebook market share from last quarter, while Nvidia saw a tiny market share increase year-over-year.
The GPU market and the PC market in general continued to slide as users and corporations have stretched out their refresh rates, says Jon Peddie Research. Reporting on sales of graphics chips to computer manufacturers for the first quarter of 2016, JPR says the Gaming PC segment, where higher-end GPUs are used, was once again the bright spot in the overall PC market for the quarter.
Notebooks dragged down sales in the overall PC market, as well as for discrete GPUs. Overall GPU shipments were down 15% from last quarter. AMD's shipments decreased 5%, Nvidia decreased 15% and Intel decreased 17%.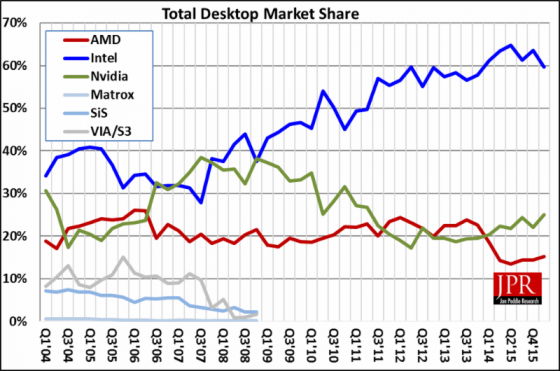 Year-over-year total GPU shipments decreased 16% while desktop graphics decreased 6% and notebooks decreased 22%
The decline in the Chinese economy and the oil glut have been blamed for the sluggishness of the PC market this quarter, but it is also the continuation of a long trend. Mobile phones and tablet sales were also off.
AMD's overall unit shipments decreased 4.55% quarter-to-quarter, Intel's total shipments decreased 16.93% from last quarter, and Nvidia's decreased 15.06%. Discrete GPUs were in 32.8% of PCs, which is up 1.51%. Desktop graphics add-in boards (AIBs) that use discrete GPUs increased 4.9% from last quarter.
GPUs are traditionally a leading indicator of the market, since a GPU goes into every system before it is shipped, and most of the PC vendors are guiding cautiously for Q2'16. The Gaming PC segment, where higher-end GPUs are used, was a bright spot in the market in the quarter, but not enough to lift sales significantly
Ninety-nine percent of Intel's non-server processors have graphics, and over 66% of AMD's non-server processors contain integrated graphics; AMD still ships integrated graphics chipsets (IGPs).
More information on the JPR GPU market report are available at the JPR website.