Corel has building on its CorelDraw franchise to create a line of professional products for designers. In the process the company has been able to appeal to a unique base of users. 
It has been five years since Corel decided to revisit the mainstream CAD market with a product that looked a lot like an AutoCAD competitor. Corel teamed with Graebert for their Ares CAD engine and proceeded to build a full function CAD drafting tool. It didn't seem like a good idea at the time. Dassault had just started to offer its own Ares-based tool Draftsight for free and Autodesk had successfully fended off competitors over the years. But, Corel has learned over the years to stop looking at competitors and to look to its users. As a result, the company has a competitive CAD product, but also a unique set of tools for its base of illustrators and designers.
So, now 5 years later after the introduction of CorelCAD based on Graebert's Areas engine, Klaus Vossen, Senior Product Manager for Technical Graphics at Corel tells us CorelCAD is a success. How does one evaluate that comment? Well the company has continued to invest in its line of complementary products including CorelDraw, Corel Designer, and CorelCAD, and it competes with Dassault's free DraftSight because it includes 3D and customization tools including LISP and Visual Studio support. The free version of Draftsight is a 2D product that doesn't support the customization tools.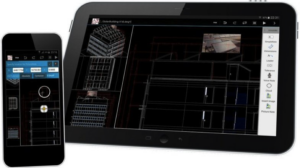 For this version Klaus says the company is staying on course, building on what they have developed in cooperation with Graebert. This latest version adds on full support for Windows 10 and Apple's El Capitan. It has nice features for productivity including Quick Input, Annotative Scaling, and Head Up Display. The Quick Input tool brings the command entry box to the cursor. Likewise the Head Up Display displays icons for the most commonly used functions and settings when an entity is selected. It can be toggled on or off and disappears after a few seconds when it hasn't been used.
Annotative scaling means that no matter what size you have the drawing scaled at, annotations are displayed at a readable size. In addition, the new version enables users to work with drawings in multiple tabbed layouts each with their own printing settings, views etc. The new features in CorelDraw 2016 in general mean less mouse moving, less searching for commands, and more time in the drawing.
The big news for CorelCAD is the coming release of CorelCAD Mobile for Android tablet devices. The software is available free for one year to owners of CorelCAD 2016. CorelCAD Mobile enables users draw and annotate. Unlike most CAD mobile companions, CorelCAD Mobile is a full featured tool. Vossen says he does not expect most users to use the mobile version create from scratch, but the tools are there. Files can be shared via DropBox and Google Drive and saved locally. We're told that Corel is still thinking about how it might want to sell a standalone mobile version of CorelCAD down the road. Vossen notes that tablet processors are becoming more powerful all the time. "We have intentionally not limited the application, and now we will have to learn from the users what the use cases are."
What's Corel-ish
As mentioned Graebert is working Corel on CorelCAD so most of the new features come from the Ares development team. But, key to Corel's base of users is support for import from CorelDraw for sketches and the company has created CorelDraw Technical Suite which includes Corel Designer for Technical Illustration.
Corel now enables a workflow for conceptualization to draft and modeling, and also for marketing content and technical illustration that's unique among the CAD competitors. This is where Corel has found its mojo.
CorelCAD 2016 is available in English, German, Spanish, French, Italian, Brazilian-Portuguese, Czech, Polish, Russian, Turkish, Simplified Chinese, Traditional Chinese, Japanese and Korean. North American pricing is $699 (USD / $875 CAD) for the full version and $199 (USD / $249 CAD) for the upgrade. Education and volume licenses are available, offering flexible hybrid solutions on Windows and Mac operating systems.
What do we think?
Graebert's improvements for ease of use are similar to improvements made in more expensive products and keeps the Autodesk competitor well in the game. In addition, we admire Corel's focus on its base of users. It makes sense when there have been so many companies simply making the argument that they're cheaper than AutoCAD. Of course, there's one less competitor in that field since ZWSoft has had to pull ZWCAD+ from the market. Some users who buy CorelDraw Technical Suite and CorelCAD can potentially spend more for their products than for AutoCAD but it better suits their work and they're willing to pay for it.