Topcon Positioning Systems has recently unveiled Aptix, an integration-platform-as-a-service (iPaaS) solution aimed at optimizing the management of heavy civil construction projects. Aptix seamlessly integrates Topcon solutions with various third-party applications, automating and orchestrating data connections between the office and the job site. This integrated platform streamlines processes, ensuring that the as-built aligns with the original plan and meets profitability objectives.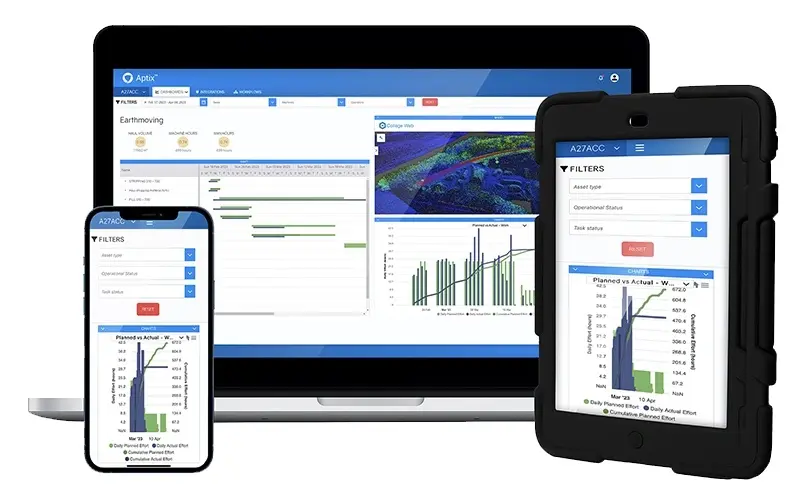 Aptix automates the distribution of crucial project data, including machine control files, constructible models, project schedules, and actual reports. It provides near real-time visibility on machine locations and effectively aggregates as-built data from mixed fleet telematics. The platform also offers real-time reports on personnel, materials, machinery, and carbon dioxide emissions, providing construction teams with greater visibility for their carbon footprint and sustainability initiatives.
One of the notable features of Aptix is its capability to automate the distribution of constructible models and scheduled task changes. These frequent updates often pose challenges in keeping management teams, operators, and stakeholders informed with the latest information. Aptix tackles this issue by seamlessly integrating with industry-standard applications, such as Autodesk Construction Cloud and Microsoft OneDrive. By closely monitoring file updates within Autodesk Build, Autodesk Docs, BIM 360, and Microsoft OneDrive, Aptix swiftly distributes these updates to all relevant parties as soon as a constructible model or schedule change occurs. This ensures that operators have access to the most up-to-date models and scheduled tasks, while project managers have the latest reports at their disposal.
According to a spokesperson from Autodesk Construction Solutions, having up-to-date and accessible information is crucial for effective communication and collaboration within construction teams. The integration of Autodesk Construction Cloud into Aptix enables easy access to critical information for all stakeholders, facilitating seamless collaboration and improved construction processes.
By automating previously manual processes, Aptix eliminates time-consuming and error-prone data entry, empowering construction professionals to focus on more strategic tasks. Real-time visibility into project progress and potential obstacles allows project managers to make informed decisions. Topcon Integration Services expressed confidence that Aptix will optimize construction project management processes, offering a powerful tool for industry professionals seeking to enhance their project workflows.