Bentley's Year in Infrastructure event held annually gives the company's customers, partners, and media attendees a big picture view of the company's products and plans. This year Bentley focused heavily on ContextCapture, its newest reality capture product.
Bentley has announced the General Availability of its ContextCapture product. General Availability is Bentley's term for its final product release phase. ContextCapture came with the acquisition of Acute3D early in 2015. At the company's Year in Infrastructure (YII) conference held in London this year, Bentley also showed ContextCapture technology working with its procedural modeling tools visualization tools developed through their recent acquisition of E-on Software.
With the release of ContextCapture, Bentley also announced the availability of its ContextCapture Center with grid computing acceleration to enable faster processing of very large imaging file. Bentley says file sizes can easily get to 30 megapixels in memory. Bentley also announced:
a new multi-platform browser plug-in and desktop viewer that supports multi-touch and allows users to easily and consistently share reality meshes on desktop and mobile devices, even for models of entire cities;
enhanced level-of-detail generation and adaptive tiling, including tools for surface and volume measurement;
directly providing context for engineering and geospatial workflows, including native support within MicroStation CONNECT Edition.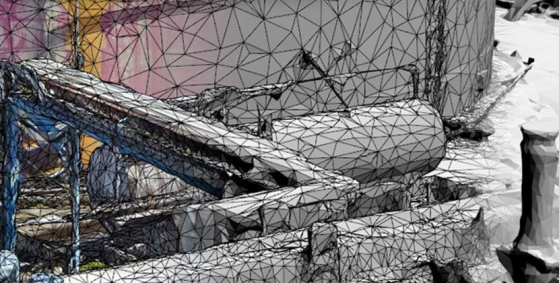 A little background
Acute3D was founded in 2011. The company developed some of the technology used in Autodesk's 123D Catch. Further, Acute3D comes out of the French hotbed of image processing technology in Sophia Antipolis, near Nice. This region is also the home of Realviz technology, the company acquired by Autodesk in 2008. Bentley has wasted little time taking advantage of Acute3D ContextCapture product.
E-On Software was founded in 1997 by Nicholas Phelps whose original software was Vue d'Esprit, later renamed simply Vue. Since then the company has spun out products for creating 3D environments. Its procedural software can generate scenes with animation and quickly add realism to models by filling scenes with plants, trees, clouds, people. The company's products include Vue, CloudFactory Ozone, Carbon Scatter, LumenRT, and PlantFactory. E-on has sold its software as standalone products and as plug-ins for widely used 3D content creation software include 3ds Max, Maya, Cinema 4D, and Lightwave. Although the company has talked primarily about its use in games and movies, it has also been used in the AEC industry to add life, digital life, to 3D models. The company's LumenRT is used in AEC to add photorealism to models, create walk-throughs (or drive-throughs in the case of traffic simulations), output high-res animations, and also draw on E-on's extensive library of trees, cars, plants, etc.
Reality capture revolution
Bentley is thrilled with the potential of ContextCapture and it spent considerable time at YII talking about the advantages of photo capture over scanning. Bentley showcased the work ESM Productions did in preparation for the Pope's visit to Philadelphia last September. The production company used ContextCapture to create a 3D model of the Pope's motorcade route through the city, which helped them develop their plans for security along the way. Bentley actively partnered with ESM after the production company saw a demo of ContextCapture at a Bentley Conference and asked how they might put it to work for their upcoming project. EVP Ray Bentley led the effort to create visualizations for the company. In a video created around the project Bentley said even though he had seen what ContextCapture could do, he was impressed by the results ESM was able to get.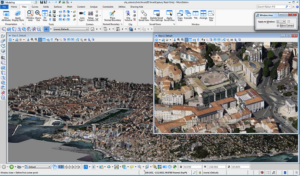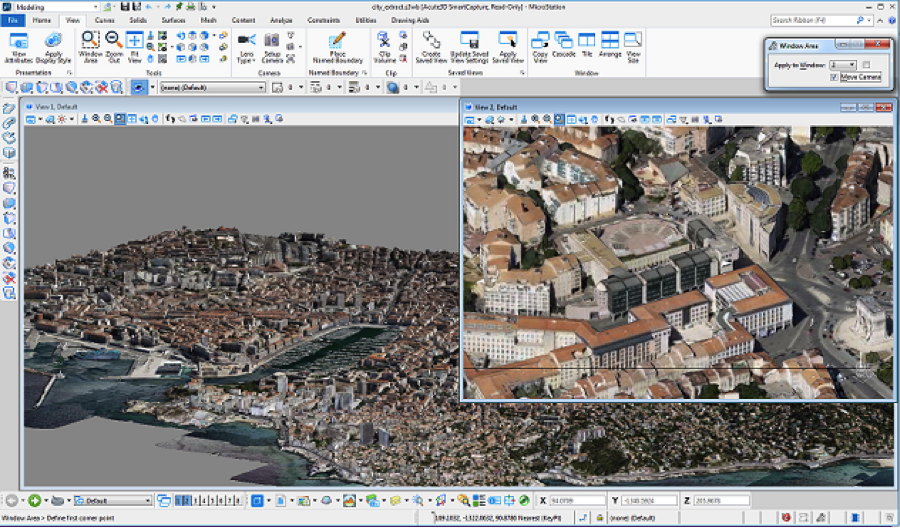 Bentley announced ContextCapture for its products last September and at that time the company announced its pricing based on Bentley Connect SelectServices, which will allow quarterly term licensing and license pooling. The company says this kind of pricing makes sense for companies that are likely to need ContextCapture on a short term basis.
As the use case by EMS for the Pope's visit demonstrates, the software enables the creation of useful models that can be used for surface and volume measurement with a useful degree of accuracy. In addition, the product supports exports of 3D meshes to GoogleEath KML, and the company has added interoperability with Bentley's products Pointools POD, and 3MX support in Microstation.
Even though Bentley Systems has very good point cloud technology in the Pointools product, Bentley executives did not talk much about its point cloud technology in this year's presentations. They were clearly giving the stage to ContextCapture meshes, which can be integrated with 3D models. Bentley COO Bhupinder Singh said "there is a time for meshes and there is a time for point clouds." Well, at this year's YII it was time for meshes.
The main advantage that photogrammetry has over scanning is that it's easier to use and less expensive because it can be used with any digital camera, though obviously, the better the camera the better the image resolution. ContextCapture takes advantage of GPS data captured with photos. Scanners have to be calibrated and re-calibrated to gather spatial data in the field.
Photogrammetry technology can be used spontaneously, especially now that we've flown into the age of drones. For example, to get data on a high structure, a skyscraper, maybe even a roof, it used to be necessary to build a scaffold and then climb it to scan, or even get a look at the area. Now it can be scanned using drones.
One of the most striking advantages of a mesh created with photogrammetry compared to point clouds is that the photographic information can be used as a texture on the mesh to create beautiful and realistic models. We're also seeing standards evolve such as KML which allows meshes to be combined to build up a digital representation of our real world.
Scanners have the advantage of being much more accurate and depending on the project, they might be more practical. Depending on the level of detail required for a job, it might be necessary to take a whole lot of photos. In some cases a scanner might make more sense. A scanner can go over large areas with much greater accuracy. Bentley believes that companies will find themselves frequently putting ContextCapture to work on projects to document change and capture as-builts.
At Bentley's annual Year in Infrastructure Conference the company demonstrated how its new acquisitions might fit together. Both Acute3D and LumenRT have been incorporated into Bentley's MicroStation making it available to all Bentley customers.
From real to digital to photoreal
Demonstrations at the Year in Infrastructure Conference showed new OpenRoads implementations of the software in which companies could create a 3D model of a site in order to correctly situate a project. Then they might use LumenRT to add lighting for photorealistic effects and soften the new construction with plants. Bentley Senior Vice President, Design and Modeling Santanu Das shared how the products might be used in this context, showing the creation of a highway model, planted a few trees around, added lighting, and then ran a "drive-through" around the model. He stressed the content could be created without time-consuming rendering and without remodeling. As an aside (in this already too long account), it's worth mentioning that a significant feature of Bentley's latest Connect Edition products is a common modeling environment which will makes it possible to move through different Bentley products and different phases of a project without remodeling. The new OpenRoads ConceptStation will be available through Bentley's Limited Access preview for select customers in 2016.
What do we think?
Bentley's big announcements mostly came last year with the introduction of Connect Edition. However, this year, the company is spending a lot of time showing exactly how their new generation of tools can work together and maybe even simplify the workflow for many people. ConceptCapture is a good example of this as it shows how photogrammetry can be used with MicroStation and Bentley's other products to create a model from real world data and then enhance the model with LumenRT. Maybe even more important is the message of a common modeling environment and a common data environment that makes all this stuff work together. Once the company has standardized its products on a technology platform, it can refine its product line even more.
This is strong stuff for a company on its way to an IPO.