Jon Peddie Research says recent growth driven by scientific and entertainment applications and a passion to "translate the visual into the digital." 

In preparation for the annual Siggraph computer graphics conference, August 5-9 in Los Angeles, Jon Peddie Research (JPR) says the computer graphics (CG) industry is growing at an annual rate of 7%, driven by strong demand in science and entertainment.
Six hundred people attended the first Siggraph conference in Boulder Colorado in 1974. At the time the fledgling and poorly defined industry was estimated to be worth $540 million (the equivalent today would be $2.3 billion). This year thousands of industry professionals, academics, and students will attend Siggraph, driven by a passion to create and use tools that translate the visual into the digital.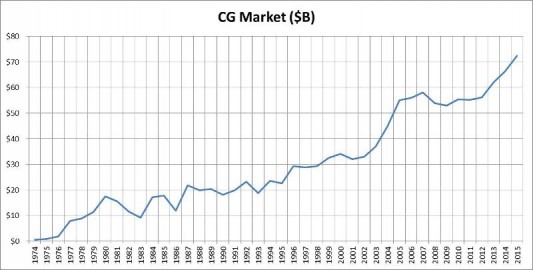 Although growth through the recession was slow, there has been growth, driven by the scientific and entertainment fields. These two seemingly incompatible realms of study enrich each other with new points of view. Looking forward, JPR predicts computer graphics industry as a whole will enjoy even greater growth than some of its component industries.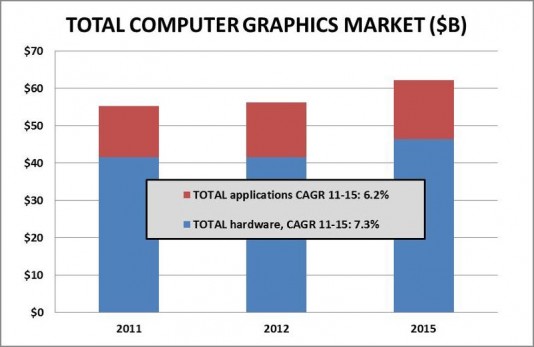 Computer graphics as realized in special effects in the movies and TV, computer games, advertising, and product designs is a combination of advanced hardware and software. Advanced development software has successfully exploited recent advances in multi-core processors, in the form of traditional x86 CPUs, and massively parallel processor graphics processing units (GPUs). From the development of 3D CAD models, to special effects like smoke and hair, and physically accurate images generated by ray-tracing, computer graphics has come to permeate all aspect of our lives and entertainment.
However, JPR notes, at the same time it is difficult to explain computer graphics in simple terms. CG isn't a thing like a nut or bolt, rather it's a tool kit, and it's also the end result of the use of the tools.
With its ongoing work studying the hardware and software used in computer graphics, Jon Peddie Research is in a unique position to provide a snapshot of the computer graphics industry. The evolution in computer graphics hardware enables more people to appreciate—and if they desire—create their own works of graphic art on the computer. It has been a long road, but today low cost processors are enabling more and more people to work with computer graphics. There is an even larger group of people who have come to appreciate the ability of computers to communicate incredible amounts of information and emotion through visual data.
In addition to the basic elements of CG, such as the hardware and software that have gone into the market analysis shown above, there are adjacent industries such as schools that teach CG, and visualization and design laboratories where everything from airplanes and automobile to toothbrushes and mobile phones are developed.
About Jon Peddie Research
Dr. Jon Peddie has been active in the graphics and multimedia fields for more than 30 years. Jon Peddie Research is a technically oriented multimedia and graphics research and consulting firm. Based in Tiburon, California, JPR provides consulting, research, and other specialized services to technology companies in a variety of fields including graphics development, multimedia for professional applications and consumer electronics, high-end computing, and Internet-access product development. Jon Peddie's Market Watch is a quarterly report focused on the market activity of PC graphics controllers for notebook and desktop computing.