Online presentation authoring tool Cl3ver adds offline publishing to extend the availability of content.  
Cl3ver is an online presentation authoring tool designed for architects. It offers an easy way to share visualizations of projects and has features such as annotation to add information to 3D models. Now the company has also added an offline capability.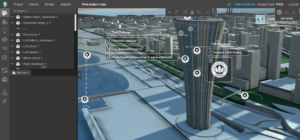 The company says customers have asked for a way to share visualizations when an online connection isn't available. It's valuable in places where there may be unpredictable internet connection and, people want to be able to spontaneously show a presentation using a laptop computer. The feature will come in handy on-site during construction, at trade shows, on a plane.
A completed Cl3ver presentation can be downloaded as an .html file, which can be viewed with any browser that supports WebGL.
What do we think?
Obviously, the feature breaks one big advantage of online tools like Cl3ver and that is collaboration. The online feature gives everyone access to a central source of information that is up to date and the same for everyone. However, given real world realities, no one can count on the ability to be online all the time.
Related articles
Cl3ver steps out with 3D authoring app
DIY presentations for architects courtesy of Cl3ver