Students are invited to compete in design challenge using living elements. 
The CitiesAlive Green Roof and Wall conference is coming to San Francisco in October, 2013. As part of the program, sponsors Green Roofs for Healthy Cities is partnering with the City of San Francisco Planning Department and the San Francisco Public Utilities Commission on a design contest for a community center in the Tenderloin district of San Francisco – a decidedly colorful area, that could certainly use a little greenery.
The challenge calls on post-secondary students and recent graduates in North America to use living architecture such as green roofs and walls in their design.
The CitiesAlive Student Design challenge is being hosted on Land8.com, a social media platform which is part of the CitiesAlive program. Students are asked to submit designs online to transform the Tenderloin location into a facility with expanded space for the area's children to connect with nature through rooftop and wall green space and garden, and the chance to learn about sustainable use of energy and water. The contest will be judged by a team of landscape architects and planning professionals from the City of San Francisco's Departments of Planning and Public Works, plus professionals from Land8 and the Green Roofs for Healthy Cities community.
Vectorworks is supporting the program by offering winning entrants who use Vectorworks to create their design a free professional license of Vectorworks Designer 2014 with Renderworks. The winning designs will be displayed at the CitiesAlive conference, October 23-24. There will be a green roof and wall themed evening event at the Academy of Sciences on October 24 and online at Land8.com.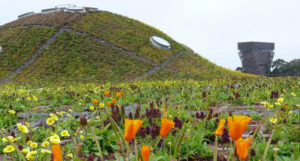 In addition to Nemetschek Vectorworks, sponsors include Greenscreen, Permaloc, LifeRoof and the Northern California chapter of the American Society of Landscape Architects (ASLA).
Designs can be submitted online at http://land8.com/citiesalive. The contest entry deadline is Sept 22.