Several new features increase render quality and speed.
Chaos Group has released the next version of V-Ray for SketchUp as an open beta, in final preparation for a launch later this year. This update (version 1.6) includes several new features that improve the use of V-Ray in professional visualization settings. This is the first update since Chaos Group acquired ASGVIS, the original publisher of V-Ray for SketchUp, in an unusual arrangement in which Chaos Group initially gave a user of its product the code he needed to create a version of V-Ray for SketchUp.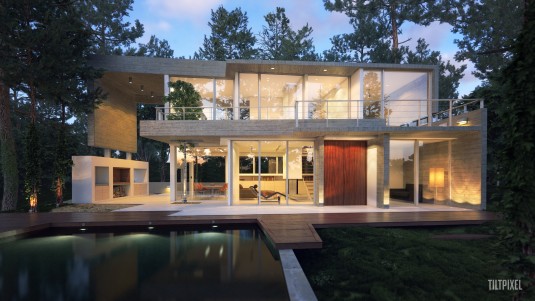 One challenge facing the Chaos Group team in preparing this update is that SketchUp remains a 32-bit program in an era when most CAD and digital content software has migrated to 64-bit processing. Users who expect to create large complex visualizations from their SketchUp models sometimes have a rude awakening.
To help users cope with working in a 32-bit environment, Chaos Group introduces V-Ray Proxies in this release. V-Ray Proxies take advantage of repeated geometry elements in the SketchUp model to more quickly render large and complex scenes. V-Ray Proxy objects are dynamically loaded and unloaded at render time, saving RAM resources.
The V-Ray rendering engine has been expanded with the addition of V-Ray RT, a real-time rendering engine that runs in the V-Ray frame buffer. The CPU-only render can provide instant feedback on lighting and material selection or other in-process visualization tasks.
A new Dome Light features creates simple, artifact-free image-based lighting using importance sampling of HDR images. Chaos Group says this technique optimizes light tracing and precision.
V-Ray lights can now be part of a SketchUp component, making it a simple task to change a lighting setup by editing the component; all instances then comply with the update. Sphere Light is a new feature providing spherically shaped area lights, which provide a unique lighting effect.
There are several changes to materials in this update, including a new class of materials called V-Ray Materials, a compact material definition that includes diffuse, reflection, and refraction parameters. Wrapper Material can be used to specify additional properties per material, and allows for true matte materials. A new Material Library contains more than 100 ready to use and photorealistic V-Ray Materials. Procedural Texture Mapping has been improved with the ability to edits several attributes.