Other updates add efficiency to tool path creation. CAMWorks was the first SolidWorks CAM solution to achieve Gold certification.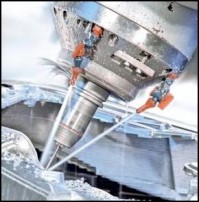 An update to CAMWorks from Geometric Ltd. now supports SolidWorks 2012, and offers other improvements.
Key updates:
Support for SolidWorks 2012
Feature recognition performance and recognition improvements
Version 4.0 of VoluMill with new Non-Concentric Milling technology that reduces cutting-tool loads, and evacuates chips more effectively, thereby increasing the tool life
Reduction in the time taken to save the files containing a large number of tool path moves
Ability to add new tools into the TechDB from within CAMWorks
Shaded display of Contain and Avoid areas
Turn roughing operations now support user defined inserts
More information:  www.camworks.com.