A strong rise in printer volume overcomes a drop in revenue per printer, thanks to new low-cost models. Net income is up 35%. The latest in a string of acquisitions raises questions.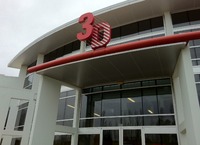 3D Systems (NYSE: DDD) has reported a strong third quarter, based on a mix of stronger product demand, the introduction new products, and rising use of its services. The company reported total revenue in the quarter ending September 30, 2011 of $57.5 million, up 39% from $41.5 million a year earlier.
3D printer units sold in 3Q'11 tripled over the 3Q'10 period to $14.8 million, but accounted for only a $0.3 million revenue increase as a result of continued mix shift toward the company's lower price printers. Print materials grew 30% to $18.5 million on strong user demand and an expanded installed base. Services, including on-demand custom parts, increased by $11.5 million over 2010.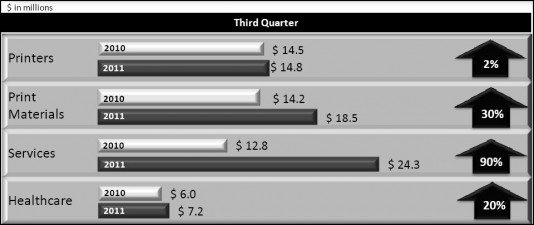 Cash per share on September 30, 2011 was $1.44, down from $1.58 three months ago and $2.82 six months ago. The company has made several acquisitions in recent months, using both the proceeds of a recent secondary stock offering and profit.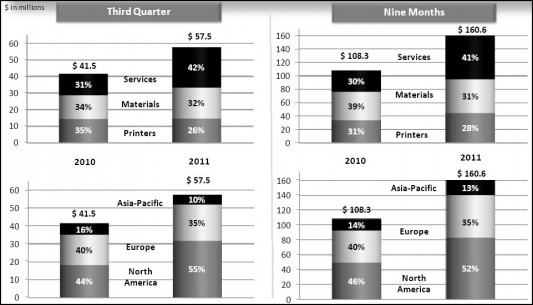 During the quarter 3D Systems picked up 18 new resellers.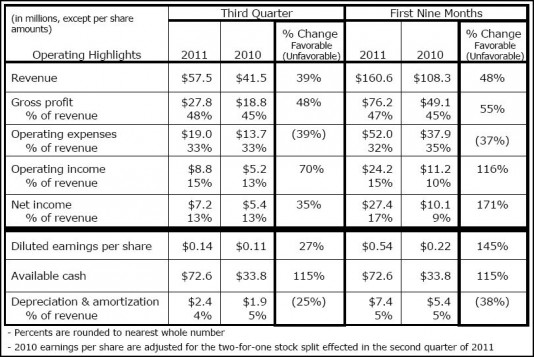 The serial acquirer strikes again
3D Systems is right up there with Autodesk as a serial acquirer, albeit one with a much smaller pile of cash. This week 3D Systems picked up relevant technology and new print materials from Huntsman Corporation, a chemicals manufacturer. Specifically the company acquired:
RenShape, a line of stereolithographic print materials formulated to print durable, robust parts and prototypes with a high degree of accuracy, intricate reproduction of detail, and a high-quality surface finish. The line generated $7 million in revenue in 2010.
Digitalis, a new microelectromechanical systems rapid manufacturing (MEMS) printer said to be in "advanced stages of development and validation." Digitalis is said to be capable of manufacturing large numbers of parts simultaneously at high speed and accuracy.
3D Systems says RenShape complements its existing materials line by offering snap-fit polypropylene and ABS-like parts and selectively colored medical models from 3D Systems SLA printers.
3D Systems has a checkered history when it comes to releasing new printers. Its V-Flash system was more than two years late. Reading that Digitalis is in "advanced stages" of development, it made us wonder. An old web page on the Huntsman site says the first Digitalis printer "is scheduled to ship in the fourth quarter of 2009." (Stability of the link not guaranteed.)
3D Systems would not specifically comment on when the first Digitalis printer would hit the market; a representative says the company needed "some time" to study the matter more thoroughly. This tells us the $41 million 3D Systems paid was mostly for RenShape, from which it gets an immediate cash boost, and Digitalis was thrown in to sweeten the deal.
Noted additive manufacturing industry authority Terry Wohlers is also skeptical. "3D Systems continues its buying spree," he told GraphicSpeak. "The Huntsman RenShape stereolithography materials have been available for a very long time and I'm not surprised 3D Systems has acquired them. That's one less competitor for the company. I'm quite familiar with the Digitalis technology, which Huntsman did not commercialize. With 3D's already wide range of machine technology and systems, the future of the Digitalis is murky."