Latest update of an alternative design ecosystem to AutoCAD has more than 20 new and improved features.
Bricsys has updated its .DWG-compatible engineering design software BricsCAD with improved performance, updated compatibility, cloud-based project collaboration, and a variety of smaller feature improvements. BricsCAD is available for both Windows and Linux.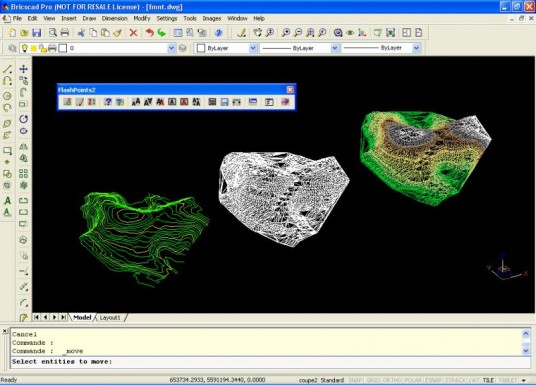 The Windows version receives native 64-bit version support in V13.2, a "top priority for many of our corporate volume customers," says Bricsys CEO Eric De Keyser. The Linux version is still at 32-bit processing, but can run on 64-bit Linux systems.  Running in 64-bit mode provides for flexible handling of large drawings and the rendering of complex designs through maximum memory usage. The 32-bit (x86) and 64 bit (x64) versions can be installed side by side and will operate as separate applications.
This update also adds support for the latest version of .DWG, the 2013 format as used by AutoCAD 14. Bricsys bases its .DWG compatibility on the Teigha libraries supplied by the Open Design Alliance.
BricsCAD V13.2 integrates a smart connection with the cloud-based Chapoo Free or Premium Services. Chapoo Free provides for casual document sharing; Chapoo Premium provides more comprehensive project collaboration. The Chapoo connection tool automatically recognizes xrefs and keeps track of them in the cloud. Chapoo is a Bricsys product but run as a separate division.  A YouTube video demonstrating how BricsCAD and Chapoo works is at: http://youtu.be/KgOJ0l6jv0Q
Other new features and improvements:
• Additional options for the splines properties panel
• Several visual styles and rendering improvements
• Improved dialogs for sheet sets
• Assembly design and direct modeling corrections
A full list of changes can be found in the Release Notes on the Bricsys website at: http://www.bricsys.com/common/releasenotes.jsp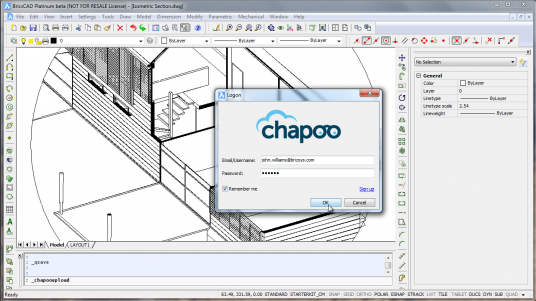 Our take
As we reported last October from the Bricsys Developers Conference, there is still a lively market for 2D CAD, and Bricsys is doing well by offering not just low-cost 2D CAD but an alternative platform for third-party developers.  A copy of AutoCAD retails (depending on locale) for around $4,195; a copy of basic BricsCAD is around $500. Third-party application developers can add a $1,000 or more to the price with their custom application and still undercut the competition by thousands. From Turkish architectural software to civil engineering software for Poland, there are a wide variety of custom applications in small markets running custom software based on BricsCAD.
Basic BricsCAD comes in three versions, with increasing capabilities, from $445 to $985. At the high end users get features not available in AutoCAD including kinematic analysis, assembly modeling, and direct modeling.