Underlying technology from TechSoft 3D enables fast viewing, strong data compression.
Tiny 3DA Systems from Victoria, British Columbia, Canada has the distinction of bringing to market the first 3D PDF converter compatible with the newest release of Autodesk Revit.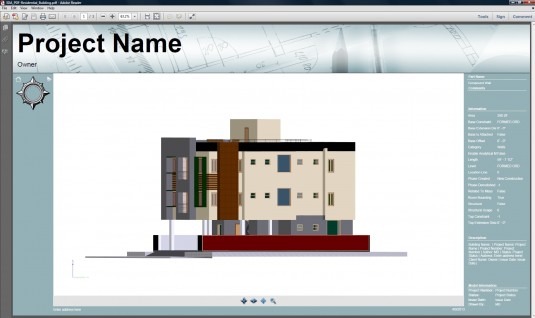 3D PDF Converter for Revit allows Revit models to be shared with all project stakeholders using the ubiquitous PDF format. The data-rich models are up to 97% smaller than the original Revit file.
Viewers without a Revit license can view, review and mark up complex 3D visualizations, using annotation technology included in Adobe Reader; all markups are tracked.
In addition to viewing in Adobe Acrobat or Reader, users can insert a 3D PDF for Revit model directly into Microsoft Word for Windows, using the "Add 3D" command in Adobe Acrobat XI Pro.
3D PDF Converter for Revit enhances the Revit-to-PDF process with templates that preserve branding and protect original intellectual property. The converted Revit models include a simple user interface to simplify viewing.
3DA Systems uses 3D PDF technology licensed from TechSoft 3D.