After updating a homegrown system with Bentley ProjectWise, a wide variety of engineering and utility documents are now immediately accessible.
When the Los Angeles Department of Water and Power (LADWP) surveyed its many stand-alone engineering data repositories, it saw an opportunity to drastically improve its operating efficiency. With more than 100 years of records stored in numerous different systems across the enterprise, finding accurate information to start new project designs was extremely time consuming, challenging, and often unsuccessful. Drawing data, foreman's prints, and job addresses were stored in three different Oracle databases. CAD files resided on a Linux server using an in-house configuration management tool. Scanned foreman's prints containing field markups were stored in a Windows server, and Office documents, photos, and PDF files were stored in a host of file servers in multiple departments.
Compounding this were duplicate hard copy drawing archives located in district offices. "Even if you knew where to look, there was no guarantee you would be able to find the data or trust it," says Chad Crouchman, senior civil engineering drafting technician, LADWP.

LADWP knew the situation was causing lost productivity, project delays, and increased costs. Significant labor was necessary just to maintain the many repositories and custom software. New projects required hours of research to locate reference files and resolve inconsistencies. Too often designs were started with incomplete or inaccurate information, which then led to revisions during construction.
Replacing the homegrown system
Intent on improving operating efficiency, LADWP CAD Manager Robert Mendoza led the investigation of a number of solutions including ProjectWise, engineering information management and project collaboration software from Bentley Systems developed explicitly for the design and construction of infrastructure projects. LADWP selected ProjectWise for its ability to store a wide range of file types, provide security, manage drawing version control, support custom workflows, and provide users rapid access to files through spatially enabled search capabilities.
ProjectWise replaced LADWP's home grown drawing management system "PDMS," which had been in use since 2003. "Users were reluctant to part with PDMS, but after being exposed to ProjectWise they quickly saw the advantages in searching for content, reference file management, audit trail, and MicroStation integration," said Mendoza.
The implementation project involved integrating legacy information and merging hundreds of thousands of files in various formats into one system. LADWP used the ProjectWise Software Development Kit to customize the system in-house. LADWP staff say implementing ProjectWise has reduced the time spent searching for files in half, cut plotting time by 40%, and eliminated the need for a dedicated resource to maintain and support the legacy systems.
ProjectWise allows geospatial searches of maps, drawings, and documents in one repository. Workflow, reference file, and workspace management ensure continuity and standards compliance. Document attributes are updated in one program and secure check-in and check-out minimizes lost work and prevents accidental file deletion. Access permission management and audit trails improve safety.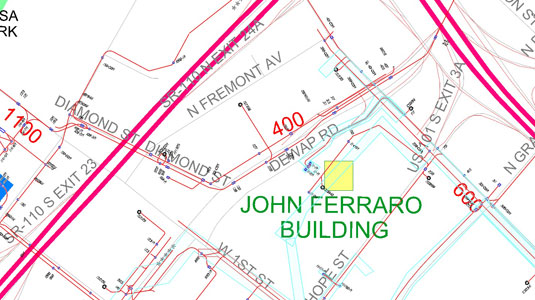 Research time cut by 80%
The benefits of ProjectWise were immediate. LADWP now had one application and repository for all drawings, maps, photos, documents, and data. This alone allowed LADWP to reduce data administration costs and reallocate one full-time employee to more productive tasks.
More importantly, LADWP says new projects experienced an 80% reduction in the time spent researching and validating reference data. With the ProjectWise spatially enabled search interface, users graphically select a region of interest, such as a city block, and quickly discover all relevant information for assets in that area.
With close to 2.5 hours saved on each of the approximately 8,000 projects performed a year, the savings added up quickly. "We are saving approximately $800,000 annually in research time alone," says Crouchman.
Moving forward, LADWP intends to increase its already substantial return on investment by expanding its ProjectWise implementation to manage design information for its electricity generation facilities. This will bring the total number of managed documents to approximately 800,000 and total LADWP ProjectWise users to roughly 650.