Siemens PLM software CEO Tony Affuso discusses corporate culture, openness in PLM, and takes a shot or two at Dassault Systemes. Originally published in CADCAMNET in 2007.
By Randall S. Newton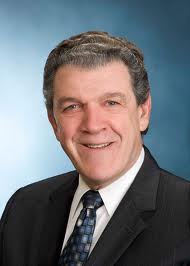 September 2007—CADCAMNET sat down with Siemens PLM Software CEO Tony Affuso for a private interview at Innovation 2007, the company's annual press/analyst event last week. The following is a paraphrased summary of Affuso's remarks, based on a candid 30 minutes in which (surprise, surprise) there was no marketing or press affairs person in attendance.
The UGS Vision and Values are Alive and Well
The merger with Siemens Automotive & Drives is behind us now, and the momentum we had before this process started is continuing. This company was built on engineering principles and a strong focus on solving customer problems. No matter who owns UGS, those values remain strong. We have always worked closely with our customers, and we will continue to do so. Working closely with our customers helps us. We get to market sooner because we have a better understanding of how our customers use our products.
UGS is 40 years old this year. I've been here for 15 years, and the culture was set before I arrived. Despite all we have been through over the years, the UGS culture rises above the activity. What sustains us? A love for the customer and a love for the products.
About Life Within Siemens
Merging with Siemens has been a good cultural match. The company is 160 years old and the employees still cherish the legacy established by the founder. A hologram of Herr Siemens is on every employee's ID card. Siemens is passionate about innovation, engineering, and the products they deliver. Our "never let a customer fail" culture impresses them.
I think we will see a good cultural mix between the two firms going forward. They told us, "We wanted to buy a software company, and you are it. Don't let us change you; don't change your software culture." So far, so good.
The Future of the UGS Product Line
We've been using the swoosh diagram to explain PLM since 1998. Everything we do is about consistency. You can't create a PLM environment overnight. There have been years of focus and a graceful evolution of architecture. Rule Number 1 for us has always been, "Don't destroy the customer's data." Look at what Dassault Systèmes did when they moved from CATIA V4 to V5—they destroyed the ability of their customers to move their data forward. Look at Dassault's PDM products; they have four or five data structures. Then look at our swoosh symbol as our promise of a unified environment.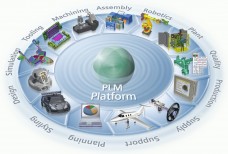 Teamcenter is the backbone of our PLM environment. Tecnomatix is the specific application we offer for process simulation and factory optimization. The Teamcenter database contains the plant model, which is used for simulation, to explore various issues, and to execute the project digitally. Then the user can monitor MES (Manufacturing Execution System) information and create a feedback loop.
We are excited about Project Archimedes. [Editor's Note: Project Archimedes is a new UGS initiative, designed to take the first steps toward integrating various UGS and Siemens technologies for factory automation.] It is a product of our merger. Working closely with our Siemens colleagues and with selected customers, we will bring PLM to a new level and we will make digital automation more believable.
We need to own both sides of the street. We are rolling up our sleeves and going to work; our people can't wait to get at it. Project Archimedes is exciting for us, but our other development work continues. Data interoperability and synchronization of manufacturing data is a strong driver for us.
There will be plenty of investment in these areas going forward. We believe in openness, now and forever. We have an open architecture. We avoid the use of embedded or proprietary operating systems. Product data is owned by the customer, not by us. We have an obligation to fulfill, to keep customer data alive and open. Our customers must always be able to use their data elsewhere, as they desire. It is not in our best interest to build barriers to prevent customers from using their data as they see fit.
The Competition
Our competitors are living in a dream world. The recent FUD (Fear, Uncertainty, Doubt) they've been speaking about us is way off base. We are a high technology engineering organization. If we can't deliver our products or meet expectations, our customers will know it in a millisecond. To speak such untruths as others have spoken about us, that's just not in our DNA. We sign no contracts with our customers until we know that we are in total agreement. We agree on milestones, on expectations. When problems come up during a software installation, we hit it head-on.
To speak specifically to the Dassault accusation that we have lost Tecnomatix developers to them, let me say that we have not lost one R&D person to DELMIA; we did lose two field people to them. [Editor's Note: Affuso refers to the comments of Dassault Systèmes CEO Bernard Charlès in a recent interview with CADCAMNet, "We Push the Vision: An Interview with Dassault Systemès CEO Bernard Charles."] I suppose the nasty things said by our competitors are to be expected. But they should be careful—their words will be remembered and could come back to hurt their credibility.
A Good Time to Be in PLM
Look at the recent history of technology in our industry. There was MRP, ERP, and then PLM. PLM is where MRP was in 1990—early in its life. People are starting to see the value of PLM now. There is a lot of opportunity yet to come. PLM is becoming easier to implement and use. Data is the backbone for the surge of growth and interest in PLM to come. We think our timing for the merger is good. Last May we were thinking IPO when Siemens came calling. We realized we could get to our dream faster with Siemens than by going public. We looked around and saw many big players in software, and we wondered, 'what if they jump into our space?' We wanted to be on the leading edge of the Big Boys coming into PLM. I think we achieved that pretty well. PLM is big and not for the faint of heart.
Users want stability for their data; it represents the family jewels, the corporate life blood. Just today two customers told me how happy they are with the merger, and how they now view us as a long-term partner. GM entered into a new contract with us right after the merger, even though our existing contract had not expired. They are excited about our new ownership and the future of working with us.