By Kathleen Maher
Bentley Systems is a private company but they try not to act like it. The company regularly releases some financial data. This year, the company invited press and analysts to a call with CEO Greg Bentley who talking about the company's performance and announced new products and licensing strategies.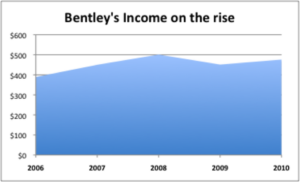 Actually, you could say Bentley has been getting even more private. The company has been buying back stock; 85% of the company is back in the hands of Bentley family or employees . As part of the presentation Greg Bentley mentioned that the company was poised to go public in 2002 but when Sarbanes-Oxley was passed around the same time, they decided to remain private. It seems to have worked out well, but Bentley has released their some earning figures anyway. They just report on their own terms and that's how the company likes it.
Bentley breaks out its revenues according to the size of their customers and they differentiate between contractors and owner/operators. 54% of Bentley's customers are Owner/Operators, reflecting the company's strong position in plant and energy industries.
Bentley has converted the majority of its customers to subscription revenues. In addition, the company has the capability of monitoring its subscription customer's usage of MicroStation as part of its licensing agreement. Greg Bentley notes that the hourly usage of MicroStation has increased in 2010. It has increased in all regions—up 20% in the U.S., up 30% in EMEA, and up 40% in Asia. In his remarks to the press, Greg Bentley notes that the increased usage is an indicator of higher sales to come.
Like Autodesk, the company is seeing significantly higher revenues from emerging economies. In fact, the emerging economies have been the only bright spot for CAD companies during the recession and some in some cases, those regions continued growing while other regions contracted. Bentley says revenues from China have grown over 117% in the last three years. Russia is another hot spot for the company, with 44% growth from Russian companies over the last three years. India and Brazil have grown 16% and 17%  over the same time period.
Bentley is committed to contributing 20% of its revenue to research and development. The company says it has invested more than $1 billion in R&D and acquisitions since 2001.
New licensing
With the announcement of its revenues, Bentley Systems also announced new pricing and licensing policies as a continuation of its Bentley SELECT program, which makes  software available to customers as they need it. The new Portfolio Balancing program is intended for customers who see their requirements changing as their business changes in response to the ebbs and flows of financing and markets. Bentley says customers will be able to exchange their licenses if their needs change. As long as they're spending the same amount of money, customers can pick and choose the mix of Bentley products that best suits their business requirements.
Bentley acquires SACS
Bentley also announced that it is acquiring SACS, a company based in Louisiana that sells tools for offshore analysis software. It helps designers consider the effects of waves, winds, and other water-based influences. In addition to being useful for floating oil platforms, SACS also has tools for wind farms.
What do we think?
Honestly, we're glad to get any information that a private company is willing to divulge but on the other hand, we know it's not the whole picture, it's just the picture the company wants us to see. However, it's clear enough that Bentley's decision to concentrate on infrastructure starting with Plant and Energy as well as software for highway and bridge design has opened up new resources for the company and it is now strong in all aspects of infrastructure design including, civil, utilities, rail design, and construction. Bentley is wired into the workflow of major designers and builders. Interestingly, Autodesk and Bentley have been collaborating to enable smoother information flows between their products. For instance, in this quarter, Autodesk's Revit has seen very good growth. The chances are good that quite a few of those seats of Revit are going into organizations also using Bentley's tools. Bentley, as they will proudly tell you, is one of Autodesk's largest third party partners. As it turns out, cooperation pays off.  You can download a copy of Bentley's Annual Report here. – K.M.