Bentley consolidates its mapping and GIS tools into three interoperable modules: Bentley Map PowerView, Bentley Map, and Bentley Map Enterprise. The company continues its efforts to strengthen its position by consolidating its bewildering lineup of products and point products. The new map products look like a good example of how Bentley plans to move forward with this effort.
Bentley Systems has done a major overhaul on its Mapping product line for V8i. The company has simplified the line into three products under the product name: Bentley Map V8i (Selectseries 2): Bentley Map PowerView, Bentley Map, and Bentley Map Enterprise. Related products such as Bentley Cadastre, Descartes, and PowerDraft for Mapping have been rolled in. The three products are tiered, interoperable products that provide a base of GIS and Mapping products designed to work as standalone products or within existing systems.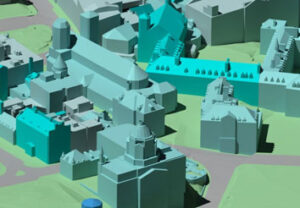 All three products support 3D GIS modeling and analysis. Bentley PowerView provides viewing and mark up. Bentley Map is the basic tool. It works as a stand alone or with Bentley's CAD product Microstation. Bentley Map provides 2D mapping tools, support for all major GIS formats, and analysis.
The new Enterprise Map is a superset of the products with additional 3D  tools and more advanced analysis.
The Bentley Map Enterprise also provides solids texturing, document conversion, and long transactions in Oracle Spatial. Bentley formerly required a server license to support Oracle long transactions. Bentley says their use of the standard Oracle database, plus native access to the leading spatial data formats, gives their customers an interoperable environment with CAD, Mapping, and GIS systems. On an announcment call to journalists, Richard Zambuni, Bentley global marketing director, said "we're not trying to segment the market" with a lot of disparate point tools, rather, said Zambuni, "we're trying to aggregate the market."
Bentley says they will provide data models for Airports, 3D Cities, Roads and Transportation, and Water and Wastewater. Bentley released a data module for Airports last year. The Airport data module is available for the new line up of Bentley Map products. The company says it will introduce a data module for 3D cities next, to be followed by Roads and Transportation and Water and Wastewater.
In addition, Bentley says it has extended its API to open up more access to developers and they have improved the documentation.
The new map products are intrinisically 3D. They include tools for converting 2D elements into 3D including basic extrusion tools. Users can also use all the 2D capabilities they're used to in their GIS, including creating overlays, placing buffers, and performing analysis. 3D enables more advanced analysis including interference detection. The three tools enable companies to pull in their BIM and GIS data and combine it with other information including point cloud information, raster scans, etc.
What do we think?
Mapping and GIS are being redefined thanks to the availability of information and data from GPS, and online maps from Google, Microsoft and others. Yes, the availability of data is exploding exponentially, but the ability to plot it on a map and combine information visually is key to getting control of information.
Stepping back, the work Bentley has done with its Map products looks like further delivery on the company's pledge to create more rational product lines and to improve the interoperability of its products within Bentley and with competitive products. That's a lot of work and we expect to see it continue through 2011 and 2012.