Industrial Light and Magic's first full animation needed a retooling of their famed fluid solver/renderer and faster GPUs. Tools from Nvidia, Autodesk, and Pixar all played a role.
The animators behind Rango, the quirky western starring the voice of Johnny Depp as a lizard who becomes a reluctant sheriff, took advantage of a mix of Nvidia Quadro GPUs as well as both off-the-shelf and commercial software to break new ground in production speed and realism.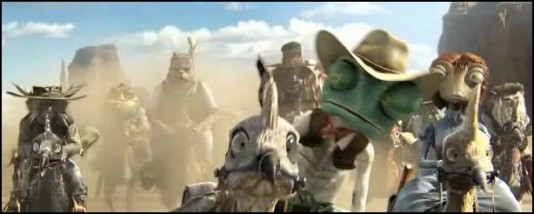 Animators at Industrial Light and Magic have been using Autodesk Maya alongside their proprietary Plume software, a GPU accelerated fluid solver/renderer, for special effects on several movies in recent years. For Rango, new shadow and lighting features were added to to Plume to make dust and fire simulations more realistic in the desert setting.
According to Tim Alexander, VFX supervisor for Rango, the combination of faster GPUs and new software made all the difference. "If we have a character standing in the key light, he'll actually cast a shadow into the dust, smoke or fire. In the past we would fake those biometric ray-type effects or any sort of shading in the composite phase. By using the GPU to bake shadows and lighting into the simulation, we saved a tremendous amount of time and achieved a more realistic effect by having all of the detail of the object that's casting the shadow actually in the shadow itself."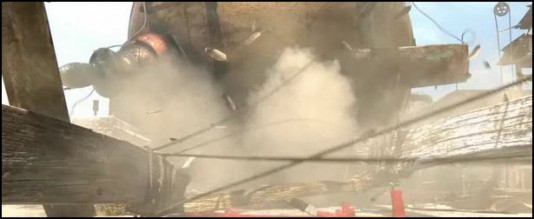 Plume was also used to simulate fire; in one scene, the main character Rango belches flames, setting a saloon patron ablaze. "With NVIDIA GPU acceleration in Plume, we're getting real-time feedback on dust and fire. Previously it would have taken one or two days to simulate the same scene," Alexander says.

Rango's crowd scenes feature up to 120 variations of 75 key characters—each one with either hair, fur or feathers on their body. In order to accommodate the massive amounts of rendering required to generate the frames, ILM developed a GPU-accelerated process to calculate lighting occlusion. The occlusion data provided a preview of hair or feathers, and was fed into Pixar's RenderMan renderer for a final pass. The pipeline shortcut resulted in speed increases of up to 100 times, depending on how complicated the hair or feathers were within a given sequence.
Off-hours rendering
The hundreds of GPU cores in each artist's workstation also boosted the performance of ILM's GPU render farm during off-business hours. With "ObaQ," ILM's Academy Award-winning render queue system, processors were automatically utilized by the render system when an artist logged out at the end of the workday.
Rango, a Nickelodeon Films production, was ILM's first fully animated feature film. It was released in theaters March 4, 2011 and rocketed to the top box office spot in its opening weekend.