Pooling resources and sharing opportunities to advance construction BIM.
Bentley Systems and Trimble have been forging links between their products for a few years. The companies have areas where they can effectively interoperate, and both companies are amenable to strategic partnerships with other companies. This year at Trimble's user conference and Bentley's Year in Infrastructure, the two companies announced their plans to collaborate on construction modeling, a term they are using to describe ways in which to make the actual work on the ground by construction crews more efficient.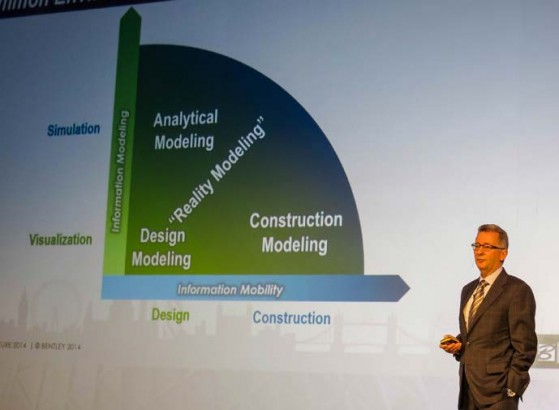 Speakers at the conferences note that the challenge for the architecture and construction industry is controlling the waste that happens in the construction process as materials are not delivered on time, or instructions not delivered clearly, plans are difficult to read, etc.
The companies say construction modeling includes temporary works, intelligent positioning, "splitting and sequencing," detailing for fabrication, workface planning, construction work packaging, and support for distributed construction—referencing and supplementing design modeling deliverables.
The companies say that while BIM tools have evolved to enable better design and planning including simulation and analysis, tools that can help constructors have not been developed. What they're seeing as the construction industry adopts digital techniques is that they creating their own 3D models, which breaks the chain of information. Bentley and Trimble hope to develop new tools designed for the construction process, but included data assets for the entire project will preserve the intent of architects and engineers while supporting the requirements of the people actually building the project.
The two companies say they contribute to construction modeling advances and pool resources by:
Sharing schemas across design and construction applications to ensure that constructible models maintain semantic fidelity
Leveraging iModels for construction deliverables to and from the companies' respective software and hardware, when used together in project delivery
Joining forces to advance standards, for instance, the Open Geospatial Consortium's "intrinsic geo-context," down to construction levels of detail
In certain cases, leveraging common modeling software for virtual and physical alignment; for instance, Trimble uses Bentley software technology to provide intrinsic 3D geo-context for Trimble Field Link.