Autodesk's new subscription deals make it easy for people to use a little or a lot of the company's tools.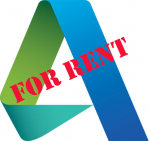 To probably no one's surprise, Autodesk has announced the availability some of its major products for rent. The list includes 3ds Max, Maya, and the new Maya LT as well as Autodesk's Design and Creation Suites. Autodesk is offering new plans that will be available as monthly, quarterly, or annual rental plans and like people taking advantage of Autodesk's subscriptions, they'll have access to the latest versions of their software as well as new goodies the company makes available as a bonus and also as a field test of new technology. Included in the bundle is access to select Autodesk 360 cloud services.
The availability of critical products on a rental basis means that companies can ramp up projects, add (and sadly) subtract employees as needed according to workload. It's a signal that work as we know it is changing for digital professionals. People who don't have a lot of ready cash will like the new program because they can pay for software only as they need it. Companies like the flexibility. And, Autodesk hopes more people will be able to try and learn their products without a high price tag off the top.
So far at least, Autodesk is also maintaining traditional licensing deals. Customers just aren't so sure how they feel about renting software rather than owning software and Autodesk is being careful not to force choices on anyone.