The 2014 version of the top selling 3D mechanical CAD will improve the user experience. The founders' legacy of a deep bench keeps SolidWorks focused.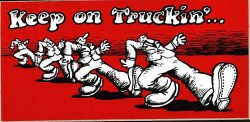 Dassault Systèmes SolidWorks introduced its 2014 edition to industry press and analysts last week with a straightforward introduction, short on hyperbole and long on details. As the most profitable unit at Dassault Systèmes, yet the one least connected to the parent company's 3D Experience vision, SolidWorks senior management drove home the message that uses come first.
A look back in time makes it clear how things have changed. At SolidWorks World 2010 users were told technology from other Dassault Systèmes divisions would quickly be included into SolidWorks. New products like SolidWorks PLM and Live Buildings were introduced. Fast forward to the present; neither product exists, the senior management has gone through a near-complete turnover, and the focus is back on making the current generation of SolidWorks more useful than ever. CEO Bertrand Sicot and team seem to have finally lain to rest the Ghost of PR Past with this year's rollout of SolidWorks.
SolidWorks is a portfolio, not a singular product, although the modeler remains at the core of everything the division sells. The revenue from non-CAD products within the SolidWorks division is now a little above 20% of total revenue. In addition to MCAD, there is technical communications, simulation, product data management, and electrical design. There is also a new community-focused website (My.SolidWorks.com) and a separate content repository (3D Content Central) serving the users with access to models and each other.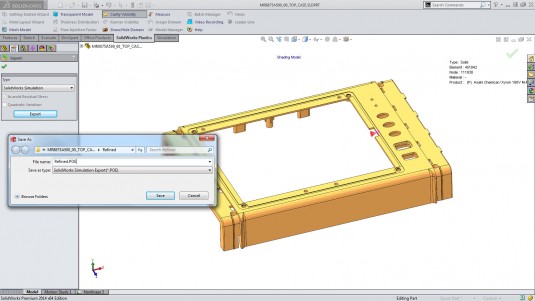 The new features
Here, in no particular order, are the most often user-requested new features and changes coming to SolidWorks 2014:
Advanced Shape Control—New Style Spline functionality, automatic Sketch Picture scaling and Conic Fillet controls allow users to create complex surfaces and organic shapes faster, easier and with more precise control.
Faster Drawing Detailing—Interface improvements make it faster to edit and annotate.
Sheet Metal Improvements—New sheet metal features enable faster creation of sheet metal geometry and improved data output for manufacturing. Users gain improved control over corner treatments, the ability to create stiffening ribs such as the indented design seen on mounting brackets used to reinforce the weight and force placed on the part.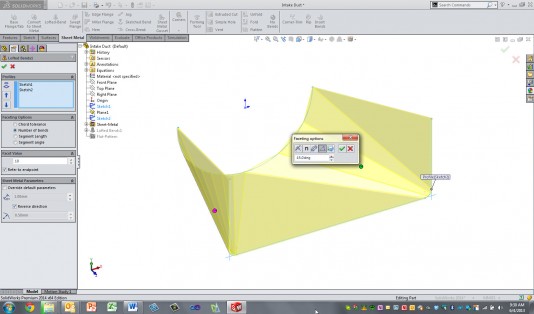 SolidWorks Enterprise PDM Workflow—Recently promoted senior VP Aaron Kelly calls PDM "structured collaboration;" this year PDM gains a new Microsoft Office integration and graphical preview in the web client.
SolidWorks Electrical Improvements—Enhanced integration with PDM and eDrawings allows users to optimize, share and track electrical designs more easily for improved project collaboration.
eDrawings on Android—New eDrawings support for Android devices.
Streamlined Cost Estimating and Reporting—Users are able to cost parts faster with less setup, then share cost data more effectively with their business value chain. For example, key product development data for assembly can now be sent to Microsoft Excel allowing for sharing with departments such as manufacturing and purchasing.
Streamlined Simulation Setup—Simulation automatically leverages engineering data for re-use in simulations, eliminating duplication of effort.
Enhanced Assembly Performance and Visualization—SolidWorks 2013 creates assemblies faster using new in-context Quick Mate and Slot Mate features. For assembly in section views, users can include or exclude selected components allowing for a fast creation of more impressive section views.
While there were more user-requested enhancements to SolidWorks this year than ever before, it is easy to point out what Henry Ford allegedly said about listening to the customer.  (An insightful Harvard Business Review article suggests he never said, "If I had asked people what they wanted, they would have said 'faster horses,'" but nonetheless Ford suffered from believing it was folly to listen to the customer). Our resident mechanical engineer and senior analyst Steve Wolfe says the most important improvements in SolidWorks are innovations that never made the top ten user requested features:
Sketches that scale automatically with the first dimensions
Toolbox bolts that include the FEA boundary conditions for bolts
Cross-sectioning of a single part.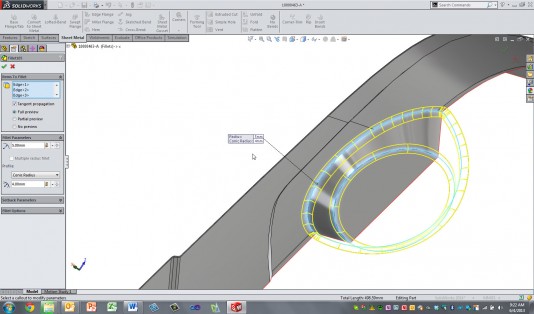 What about Dassault Systèmes SolidWorks Mechanical Conceptual?
Part of the legacy of over-reaching product announcements the current SolidWorks management team has worked to overcome was the idea of a next-generation SolidWorks built using a 3D geometry kernel (CGM) different from the one (Parasolid) now in SolidWorks. There is now a product called SolidWorks Mechanical Conceptual that has begun a test cycle with a handful of select customers. The goal is to have a product ready to release—or at least a complete story to tell—in time for SolidWorks World 2014 in January in San Diego. CEO Sicot had little to say about the product, but during a Q&A did say it is a "mechanical" conceptual design product and not an "industrial" conceptual modeler; "Alias Studio is not a valid comparison."
Our take
SolidWorks brought $527 million into Dassault Systèmes in 2012. It seems amazing that a division bringing in 20% of corporate revenue would be given a self-inflicted shot in the foot back in 2010; the wound has finally healed. The current set of executives—most of them long-term company veterans—have gotten things back on track. If there is still tension between Boston and Paris, it was not discernible at the product launch.
For the past two years competitors have piled on with FUD (fear, uncertainty, doubt) regarding the future of SolidWorks. If SolidWorks 2014 is any indication, the market leader will retain its lead for a long time to come.