Computational horsepower now allows high-end product development to work real-time with fully visualized models. Autodesk will target automotive first. 
Autodesk today acquired PI-VR, a German software company that specializes in real-time visualization technology for product development, primarily automotive. Software acquired includes the VRED line of highly realistic 3D visualization tools. Terms of the deal were not disclosed.
Autodesk says it will use the acquired technology to enhance its software for automotive design. Alias Studio is Autodesk's flagship product in automotive, but the new technology will also be used in products including 3ds Max, Maya, and Showcase.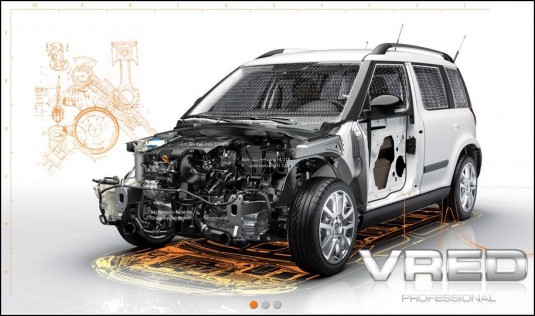 "The VRED technology helps solve a broad set of problems in the process of car design and engineering, and reduces the need for physical prototypes through the use of real-time, highly realistic visualization," says Buzz Kross, senior vice president, Design, Lifecycle and Simulation at Autodesk.
The company says it will continue to distribute the VRED line as well as incorporate the technology into other products.
Our take
In the last 18 months real-time ray-tracing has moved from the realm of wishes and into workstations, albeit with a hefty price tag. But as with everything digital, prices come down and productivity goes up. In November the Caustic division of Imagination Technologies lowered the barrier to entry for real-time ray-tracing visualization with add-in boards targeted to users of Autodesk Maya and 3ds Max. (See "Caustic introduces ray-tracing accelerator boards.") Nvidia, Chaos Group, and others sell ray-tracing technology specifically for Autodesk products.
As is typical with vendors of Autodesk's size, the company is not satisfied to leave such cutting-edge technology to third parties.  In 2011 Autodesk acquired Numenus for its ray-tracing technology, at the time also designated for automotive users first and foremost. Acquiring a second visualization technology targeting automotive may be as much a defensive move to keep it out of the hands of competitors as it is a step forward for the users of Autodesk software.