MacWorld no longer speaks to professional users, but the week of meetings is still a gathering time for Mac users. Autodesk stayed in touch with a press breakfast and meetings during the show.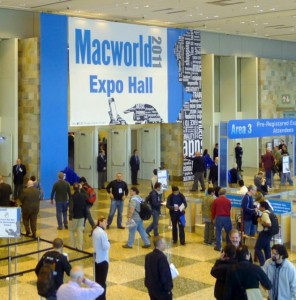 Autodesk took a hotel suite at MacWorld to touch base with its important DCC users and to provide press briefings for the few members of the press that mustered enough enthusiasm to show up. MacWorld, with its current, somewhat desperate, emphasis on the iPad, iPhone and accessories, is not much of a draw for computer professionals, but the clan does gather for parties and the concurrent FCP Super Meet for video users. Autodesk was a sponsor at the SuperMeet, originally founded for Final Cut Pro users. The Apple platform is stronger than ever with professionals, and Autodesk's presence on the Mac is growing.
As of MacWorld 2011, Autodesk has a significant presence on the Mac platform. It got there by stealth, sneaking a Maya here, a Combustion there, a little Sketchbook over there, and then voila! the big Kahuna AutoCAD comes to the Mac and the crowd goes wild. Autodesk says that the uptake for AutoCAD on the Mac has "exceeded" expectations, corporate talk for 'we're not going to give you numbers but we want to communicate that the product is doing well, it's up to you whether you choose to believe us or not.'
| | |
| --- | --- |
| Product | Description |
| AutoCAD for the Mac | Autodesk's drafting tool |
| Alias Automotive | Visualization and analysis tools for shape-definition from concept to Class-A-surfacing |
| Alias Design | Industrial design software |
| Alias Surface | 3D modeling tool with support for point cloud data and class A surfaces |
| Combustion | Tool for motion graphics compositing |
| FBX | Content exchange format |
| Maya | 3D modeling and animation |
| SketchBook Designer | Hybrid paint and geometry workflow for design illustration and graphic communication |
| SketchBook Pro | Painting and drawing software |
| Smoke | Online editing and creative finishing |
| Stitcher Unlimited | Photo stitching software |
| Mudbox | 3D sculpting tool with texture painting |
Autodesk has been steadily bringing products to the Mac (Source: Autodesk)
As Autodesk increases the number of products that are available on the Mac, the company adds strength to its efficiency in the pipeline. Autodesk's goal is to have a complete set of tools for customers in targeted markets. To that end, Autodesk is building on the transfer codec FBX as the base for its content creation products. When it comes to FBX, Autodesk has solid buy-in from the rest of the content creation community – even if there's some amount of grumbling and suspicion. The other major exchange formats for the DCC community are the Khronos Group's open source format COLLADA, and from Alembic, an industry-backed open source approach for animation exchange.
Looking at the Autodesk products on the Mac today it is clear the company is targeting industrial design, 3D modeling and animation for film/video/broadcast, and game development. With AutoCAD on the Mac, Autodesk has an entry point that will attract the AEC industry first.
Smokin'
Autodesk is pretty jazzed about Smoke for the Mac. The company trotted out customer Josh Courtney, a committed Mac user, who told the small group of assembled press and power users that he has been struggling to make decent margins and meet his deadlines using Final Cut Pro. He complained that the workflow in Final Cut Pro was too slow and that he couldn't get the look he wanted. As you might expect given the venue, Smoke turned out to be the answer to his prayers.
What we are hearing pretty frequently is that Smoke systems are coming on line in production houses and they're being used in conjunction with Final Cut Pro and Adobe's CS products. At around $15,000 Smoke on the Mac is an expensive proposition in comparison to the competition. Autodesk's message at MacWorld is that powerful tools save money in the long run. Autodesk says that they have concentrated on making it easy for customers to share content from Linux-based systems using Autodesk's editing and finishing software (Smoke, Flame, Inferno) and Smoke on the Mac.
Autodesk has been doing a lot of research on Mac users: who they are and what they're doing. They have found that the people who use Macs in content creation are early adopters and they tend to buy more expensive products — music to the ears of Autodesk. Macs have grown to account for around 10% of the computers sold in the US. Even more interesting, according to Gartner Research, if you look at high-end computers costing in the range of $5,000 or so, it turns out that the majority of them are Macs. These are work machine and Autodesk is interested in finding more things for them to do. The interest is mutual. Autodesk says that at least 30% of the trial downloads of their DCC products are going to Macs.
The stereotypes for the Mac market are still basically true. Mac users tend to be artistic and they tend to work for smaller companies or in smaller groups. If Gartner is to be believed, they're less price conscious than their peers on the Windows side.
AutoCAD on the Mac
Currently, the Mac users who work with design software fall into two major sub groups, they are architects and they are industrial designers. There are some engineers using design tools on the Mac but again, they work in small groups and in the more Mac friendly markets.
There have been several significant moves to the Mac in the last 24 months or so. Graebert has introduced Ares for CAD drafting and the engine was used for Dassault's DraftSight, a free app. Robert McNeel's 3D surface modeler Rhino is making its way to the Mac, but not before it's ready, says McNeel. Siemens PLM made a significant upgrade to NX for Mac. And SolidThinking has been racking up solid wins with industrial designers.
AutoCAD on the Mac has arrived and is settling into its role as a native Mac product. At MacWorld we had a chat with Rob Maguire who is the Product Manager for AutoCAD on the Mac. There has been a real pent-up demand for AutoCAD on the Mac ever since Autodesk left the platform in 1999. In fact, says Maguire, the company was astonished to discover that there are people who are still using the original AutoCAD for the Mac, sort of like those old fighters left in the jungles after World War II.  They were probably amazed to find out Apple has gone to Intel processors.
There has been a lot of discussion about the relative merits of AutoCAD on the Mac versus AutoCAD for Windows. Somewhat hilariously, for the easily amused at least, there is now a vocal contingent of customers who complain that there is no ribbon interface on the Mac version. Maguire says that the AutoCAD for Mac team made a conscious decision to conform to the Mac interface and they developed on Cocoa for a grounds-up Mac application. This represents a philosophical difference within Autodesk. The Entertainment Group has used the Qt development platform for some of their software for the Mac including Maya in order to have the flexibility to move between Linux and Mac platforms. But the AutoCAD team has decided to go Mac all the way.
You can't please all the people all that time and that's really true of AutoCAD users. Maguire says the team knew that going in, and took the opportunity to build create a clean interface and to simplify the feature list. In the process of defining the new program Autodesk worked from a list of most frequently used commands. The process was not totally foolproof admits Maguire who says, a few important commands were missed the first go round and for beta testers. Autodesk provides a list of features missing from AutoCAD for the Mac and says they are working to get the mix right. Autodesk is encouraging users to request their most desired features. In general, says Maguire, Mac users who have adopted AutoCAD are happy because they expect the interface to look a certain way, and AutoCAD for the Mac conforms to their expectations. It's the Windows users who have moved to the Mac who tend to be discontented because they expect AutoCAD to look a certain way and they have more of an adjustment to make.
Running AutoCAD via Parallels virtualization is also not totally satisfactory given the inherent clunkiness of working that way, but for those people who prefer their old interface and want certain features that are missing, using Parallels does remain an option and users are claiming better performance compared to AutoCAD on the Mac, which is dependent on Apple's implementation of OpenGL.
What do we think?
There are enough users for Autodesk to have opened a forum for Smoke on the Mac and this is an important battleground for the company to meet an increasingly significant competitor, The Foundry, which sells the professional compositing tool Nuke. And, of course, there's another story and that belongs to Avid. Autodesk's mission at MacWorld was to make inroads into the Final Cut Pro user base. They're getting more than a toehold in the high end. Avid is hoping to exploit the same opportunity.
The AutoCAD front is very interesting. There are very strong, and entrenched options available for design on the Apple platform including Graebert's Ares and DraftSight, Ashlar-Vellum's products, AutoDesSys' FormZ, the TurboCAD line, Nemetschek's VectorWorks. Alias, NX and SolidThinking are also important design tools on the CAD front. Why switch? Autodesk's hole card is DWG compatibility. If you have to have it, you have to have it. The competition argues that their conversion is "good enough." Autodesk's other hole card is the move toward additional features and tools for committed users, those people signing up for maintenance and service.
Are decisions made based on platform or are they made based on applications? It depends. In polling people in the industry about this story, I was told that Microsoft believes that a very large proportion of professional users on the Mac are also heavy Windows users as well. In those cases, people are going where the app lives, and there is no real draw to the Mac. There are a vocal group of people who have been waiting for AutoCAD on the Mac so they can make the switch but it could be there aren't a lot of those people, they're just loud. Then there are the people already on the Mac. Winning those customers means unseating incumbents. – K.M.