Researchers use a bio-compatible polymer and a patent-pending micromesh process to improve connective bone growth.
Additive manufacturing vendor EOS is offering a new way to create custom craniofacial implants, using a new bio-compatible material called PEEK and its laser-sintering technology. The first test implants will be on display this week at the Pacific Design & Manufacturing show in Anaheim, California, Feb. 8-10.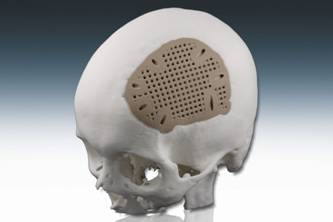 High-temperature, biocompatible PEEK (Polyaryletherketone) material is increasingly being used as an alternative to titanium for craniofacial implants, created using data from CT-scan geometry for patients with head injuries or congenital deformities. What EOS adds to the process is the ability to create a mesh microstructure inside the implant that promotes bone growth around the implant.
Test implants were fabricated in Germany using the EOSINT P 800 system, a model EOS says is the first laser-sintering system operating at up to 385 degrees C for processing high-performance polymers.
EOS Collaborative Projects Coordinator Joerg Lenz, will deliver a previously unpublished technical paper on the results of a European Union-funded project called Custom-IMD on plastic implants, titled, "Laser Sintering of PEEK," during the conference. Trials have already been performed on animals; a human trial is set to begin shortly.
"Conventional manufacturing technology can't produce patient-customized craniofacial implants, either titanium or PEEK, as economically or in as short a time span as laser-sintering," says Lenz. "What's more, EOS technology has enabled us to develop a specific geometry that can only be realized using additive manufacturing. This new design incorporates a mesh scaffold that promotes improved bone growth and optimizes infiltration with a hydroxyapatite-filled, bio-absorbable polymer."
The current implant was designed by a team at AZM (the University Hospital Maastricht, The Netherlands) headed by Dr. Jules Poukens. A patent for the network of holes in the unique mesh scaffold has been applied for.