In the first quarter of fiscal 2016 PTC is posting a net loss due to restructuring costs. The silver lining is the rise in subscriptions.

By Randall S. Newton
When a software company is in transition from selling perpetual licenses to selling subscriptions, there is a period when revenue lags; license sales decline and subscription sign-ups increase (they hope). PTC is in the middle of this cycle now, as is Autodesk. For PTC (Nasdaq: PTC), the first quarter of 2016 (ended January 2, 2016) was a case of a lag hit by those notorious "extenuating factors." It all added up to a net loss of $25.5 million on revenue of $291 million (down 10.5% from 1Q15).
What happened? First, there was a $37 million restructuring charge applied to the quarter's revenue, negatively impacting results. PTC announced a "workforce realignment" (layoffs) of around 8% of staff in October 2015. Total cost of the restructuring is estimated at $40 million to $50 million. PTC is getting most of the cost out of the way this quarter. Second, the strong US Dollar ("currency headwinds") made a dent in revenue to the tune of $21 million. Take out those two elements and PTC would have turned a profit.
Digging deeper into revenue:
Subscription revenue: $22.1 million, up 55%

Support revenue: $171.7 million, down 5%
License revenue: $47.7 million, down 26%

Professional services revenue: $49.3 million, down 24%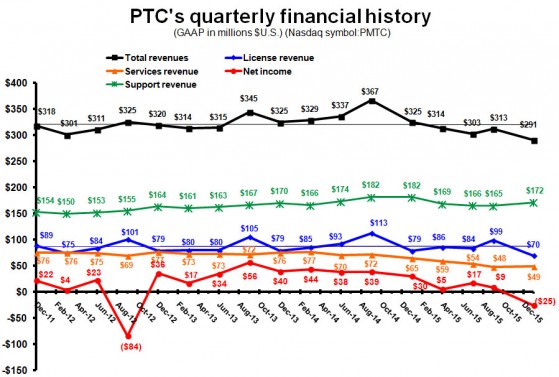 For years we have tracked PTC's software revenue by the types of product sold: CAD, PLM and other. Starting this quarter PTC changes their reporting to broader categories. "Solutions Group" is the combination of almost all PTC products pre-Internet of Things. "Technology Platform Group" is almost exclusively the new IoT division.
Revenue by software categories in 1Q16:
Solutions Group: $228.6 million, down 9% from a year ago.

Technology Platform Group: $13.1 million, up 45% from a year ago.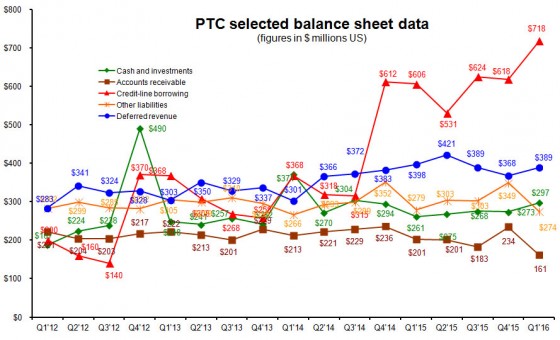 Revenue by regions:
Americas: $108.1 million, essentially flat from a year ago

Europe: $86 million, down 15% (down 4% when measured in constant currencies)

Japan: $22 million, up 7% year-over-year (up 17% in constant currencies)

Pacific Rim: $25.6 million, down 15% from a year ago (down 11% in constant currencies.
In the Americas, PLM sales posted a "significant decline." The decline in Europe was driven by the weak Euro, most strongly affecting sales of CAD and Service Lifecycle Management (SLM) products. PTC says China remains a "challenging" sales environment. A large CAD transaction in Japan helped sales there, and PTC says Japan is showing stronger than expected interest in IoT.
L. Stephen Wolfe, P.E., a contributing analyst for Jon Peddie Research, provided research and his usual legendary insights for this article.