Archos GamePad is the first Android tablet with buttons designed for gaming.
The first true Android games console, Archos GamePad is a new type of tablet that combines physical gaming button controls with an Archos patented mapping tool. The unit brings physical buttons and analog thumb-sticks to Android mobile gaming.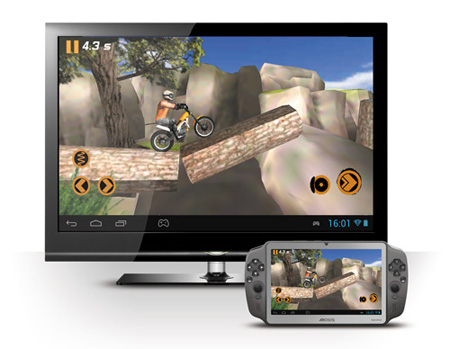 The Archos GamePad uses a quad-core Mali-400 MP4 GPU, paired with a 1.6GHz Dual-core CPU. It sports unique mapping software that allows the user to link the virtual controls of any game to physical controls. A thin and light Android 4.1 Jelly Bean device, the GamePad also features access to Google Play and Google Mobile Services and is now available in Europe for €149.99 with a North American release scheduled for early Q1 2013 at a price to be announced.
"Android device users spend more than 9 hours a month gaming on their devices and yet are not completely satisfied with the touch-screen experience," says Henri Crohas, Founder and CEO of Archos.
By combining the GamePad's 14 physical buttons and dual analog thumb-sticks with the Archos game mapping tool (exclusive to Archos), the GamePad brings the physical aspect back to the gaming experience. Adding to the experience is the 16 million color, seven inch, five-point capacitive, 1024 x 600 pixel screen. The console tablet is 10 mm (0.3 inch) thick and 330g (0.7 lbs).
The mapping profile for each game is automatically saved so whenever that game is launched in the future, the Archos game mapping tool will automatically load the corresponding mapping profile.
Equipped with 8GB of internal memory, the GamePad can accept micro-SD cards of up to 64 GB. The GamePad also has a mini-HDMI port to plug into TV to play games up on the big screen.