Now you can twist and turn the whole night long. Pricing yet to be determined.
HP went to Germany recently to introduce  its Windows 8 11.6-inch Elitebook Revolve, which can be used either as a laptop or a tablet.
The Elitebook Revolve is designed so the Gorilla Glass screen can be swiveled around and then laid flat to turn it into a tablet. For those not yet ready for the Metro experience, the PC/tablet can be equipped with Windows 7 Pro.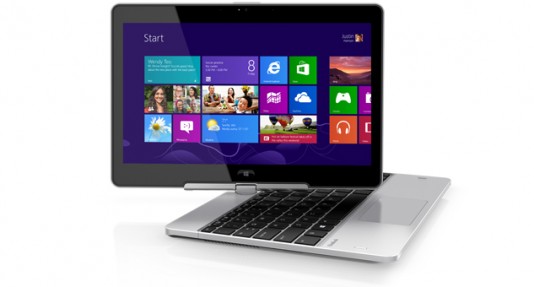 The screen in the 3.04 lb. all-magnesium chassis automatically adjustments to screen orientation, brightness and more based on position, as well as offering a full-sized, backlit keyboard and optional pen. A 720p HD4 camera, dual-microphone array are built in, along with DTS Studio Sound and CyberLink YouCam software.
Targeted at the Enterprise-class market, the tablet/laptop can be equipped with a solid-state drive up to 256 GB with Intel Rapid Start Technology, ready in as fast as 5 milliseconds. There's a slot for expanding the 4GB of internal memory too, as well as a SIM card slot.
The Elitebook Revolve will be available in the US from March 2013 with pricing to be announced closer to the launch date.
Our take
HP needs to come up with a category name, or the pundits and press will do it for them. We offer the following names for the combo tablet-notebook-laptop-slab: PClet, tabbook, notlet, and our favorite, slabbook.