$1.22 billion in sales, $16 million GAAP profit for the quarter, sales and profit up from last quarter.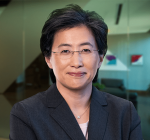 AMD reported its calendar Q3 2017. Revenues and operating income were up as well as its graphics and compute groups revenue and profits.
"Strong customer adoption of our new high-performance products drove significant revenue growth and improved financial results from a year ago," said Dr. Lisa Su, AMD president and CEO. "Our third quarter new product introductions and financial execution mark another important milestone as we establish AMD as a premier growth company in the technology industry."
The company's gross margin was 35%, up 2 percentage points Q/Q, second quarter in a row.
GAAP operating income was $126 million, compared to an operating loss of $293 million a year ago and operating income of $25 million in the prior quarter. Net income was $71 million, compared to net losses of $406 million a year ago and $16 million in the prior quarter.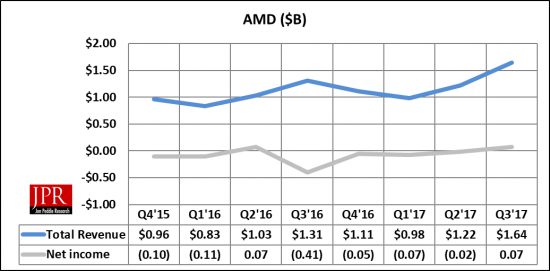 R&D expenses were $315 million (or 19% of the revenue), up $56 million Y/Y and up $36 million Q/Q. SG&A expenses were $132 million (or 8% of the revenue), up $15 million Y/Y and up $7 million Q/Q.
Graphics group
Computing and graphics segment revenue was $819 million, up 74% year-over-year primarily driven by strong sales of Radeon graphics and Ryzen desktop processors.
Client average selling price (ASP) increased significantly year-over-year, due to higher desktop processor ASP driven by Ryzen processor sales.
GPU ASP increased significantly year-over-year.
Operating income was $70 million, compared to an operating loss of $66 million a year ago. The year-over-year improvement was primarily driven by higher revenue.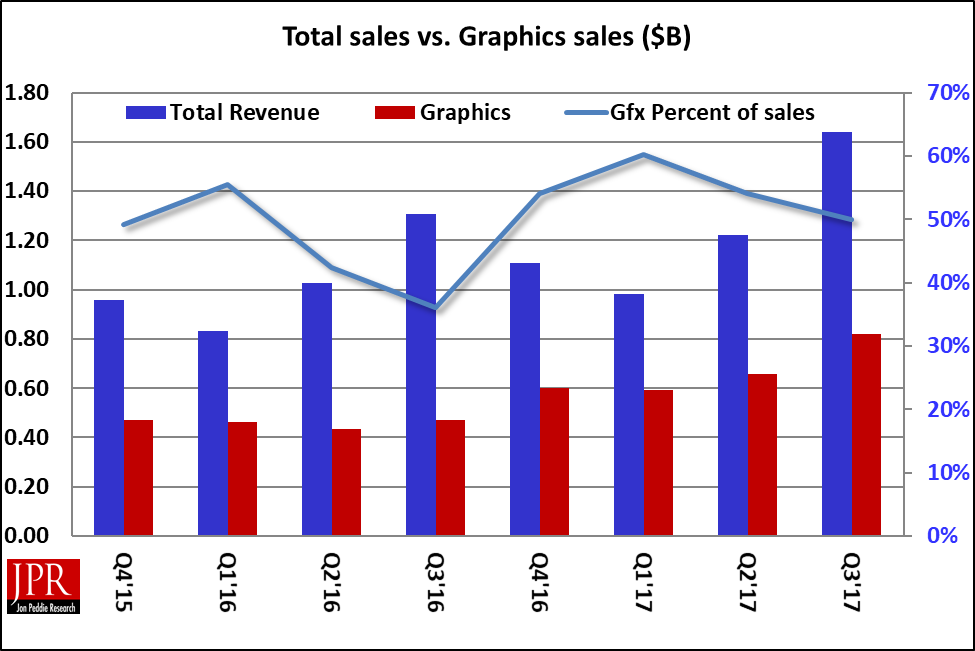 AMD expanded its graphics offerings with new consumer, professional, and embedded graphics solutions. During the quarter, the company launched it Vega-based Radeon RX family targeted at the enthusiast-class gaming segment, claiming up to 13.7 TFLOPS of peak performance.
The company also launched the Radeon Pro WX 9100 professional graphics card that can, according to the company, get up to 12.3 TFLOPS of peak single precision compute performance.
And the company introduced the Embedded Radeon E9170 Series GPU, which it claims can deliver up to 3× the performance-per-watt over previous generations, and is targeted at digital casino games, thin clients, medical displays, digital and retail signage, and industrial systems.
Other
During the quarter, Ryzen Threadripper processors were launched for the high-end desktop and workstation markets, available in 8-, 16-, and 12-core variants. AMD says Threadrippers are available from over 90 retailers, OEMs, and system integrators worldwide, including in the Alienware Area-51 Threadripper Edition gaming PC, Boxx Apexx 4 6301, and NextComputing Edge TR workstations.
The company introduced its Ryzen 3 CPU at mainstream pricing, completing the Ryzen mainstream desktop lineup, and says the Ryzen PRO desktop solutions have received broad support from top global commercial PC suppliers, including Dell, HP, and Lenovo.
With new announcements from Amazon Web Services (AWS), and Tencent, AMD enterprise solutions have now been chosen by five of the "Super 7" datacenter and cloud services companies. Previously announced collaborations include Alibaba, Baidu, and Microsoft Azure.
For the fourth quarter of 2017, AMD expects revenue to decrease approximately 15% sequentially, plus or minus 3%. The midpoint of guidance would result in fourth quarter 2017 revenue increasing approximately 26% year-over-year. AMD now expects annual 2017 revenue to increase by greater than 20%, compared to prior guidance of mid-to-high teens percentage.
Atari disclosed that a customized AMD processor featuring Radeon graphics technology will power the upcoming Ataribox game console, which is targeted for global launch in spring 2018.
What do we think?
In general, with all the new product releases and design wins, the company is pretty upbeat, and sees their market opportunity worth over $64 billion.

However, during her report, Lisa Su said she expects crypto mining demand to cool down in the fourth quarter.
"And we expect that consumer blockchain will level off a bit as we go into Q4. But there's also commercial blockchain component that we believe is interesting and likely to continue into the medium term. As we look into Q4, though, we also see growth from just the OEM side of the GPU business as we start ramping Vega into OEMs."
She's not alone in that forecast. Some motherboard suppliers have indicated they expect to see their shipments decline over 10% sequentially in the fourth quarter of 2017 as demand from the cryptocurrency mining sector has shown signs of a slowdown, and the new Z370-based motherboards are seeing weaker-than-expected sales, according to sources from motherboard players.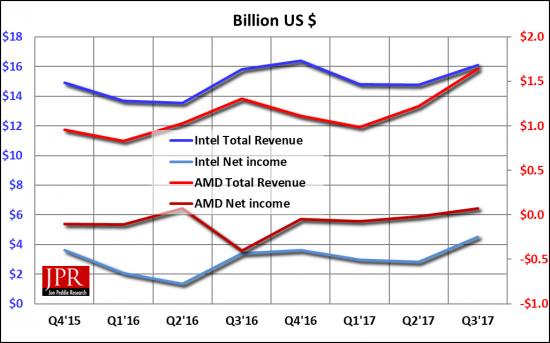 For the cryptocurrency mining market, high-end graphics AIBs have been the most important devices, and the sales ratio between mining graphics cards and motherboards are about 8-10 units to one. Although motherboards have seen much smaller demand from the mining segment, they are still making some contributions to the vendors, who are expected to see a 15% on-year decline in worldwide motherboard shipments in 2017.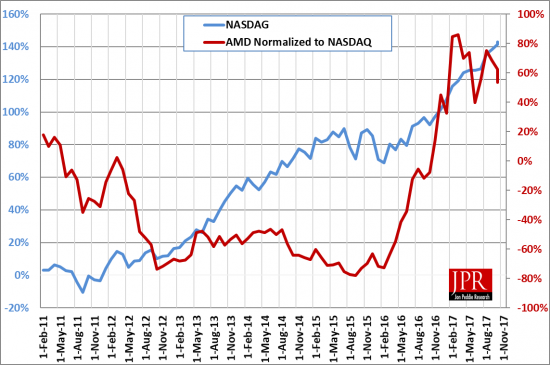 As a result, AMD's share price was driven down 14% by a sell-off while the NASDAQ dropped 1%, and Nvidia, which also participated in the crypto market dropped 3%, and then went up 1% the next day, so evidently investors don't think Nvidia has much dependence in its future revenue on crypto currency.