The Holodeck gives CAD professionals a new VR workspace while TensorRT 3 and Pegasus aims to help accelerate practical AI implementation.
Nvidia CEO Jen Hsun Huang revealed a number of the upcoming projects at the GPU Technology Conference in Munich earlier this month. This included the NVIDIA Holodeck, a virtual reality design space and CAD editor, as well as the TensorRT 3 library, and the Pegasus autonomous driving computer.
While Nvidia's Holodeck was first revealed back in May of this year, more details on the VR collaboration platform were forthcoming. Currently compatible with Autodesk 3ds Max and Maya, the Holodeck will give artists and designers the ability to edit their models in 360 degree, full fidelity VR.
Holodeck renders run at 90 frames per second for optimum responsiveness and are rendered "photo-realistically," or how well your GPU can keep up. On that side note, the Holodeck early access spec sheet states that either a Quadro P6000, Geforce GTX 1080 Ti, or the monster Titan Xp GPU will be required to run Holodeck.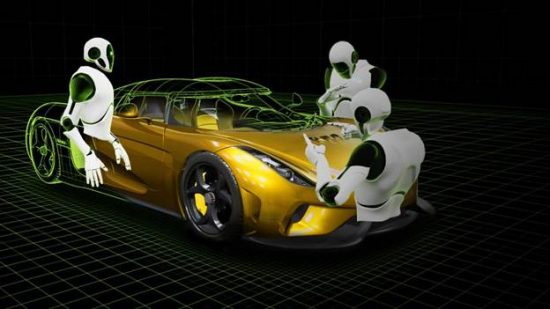 The Holodeck system is built using an upgraded version of the Unreal Engine 4 by Epic Games, and makes use of Nvidia GameWorks, VRWorks, and DesignWorks to deliver realistic physics simulations.
In addition to offering high fidelity visual renders, the Holodeck also sports haptic feedback, which means that touching an object will trigger a physical response. Nvidia explains it as a "physically stimulated interaction with your model." Though without hands-on testing its hard to say how well this will work with VR controllers.
Holodeck is aimed at improving the ease of collaboration by providing a VR workspace geared up for CAD and AEC professionals. Exporting and rendering a working, photorealistic model of your design in VR allows for more detailed presentation, collaboration, and editing of a project. Models can be rotated and particular parts of models can be taken apart and examined in excruciating virtual detail.
While the Holodeck is likely to be primarily used by product designers and architects, Nvidia points out that it can also be used by VR media enthusiasts for 360 degree content consumption. Since Holodeck allows multiple individuals to share a virtual space, it's also easy to see the future potential for these technologies in the gaming industry, though current hardware limitations means that's probably still a few years off.
Nvidia is currently offering an early access program for Holodeck, but it remains to be seen when a full version will arrive. Nvidia's Holodeck joins WorldViz's Vizible as one of the premier upcoming VR collaboration platforms, though neither has technically been fully released yet.
In addition to Holodeck, CEO Jen Hsun Huang demonstrated how the TensorRT 3 library can speed up inference in neural networks. Inference is when a neural network makes a prediction based on a specific input (it infers the solution based on the input). For a basic example, an autonomous vehicle may need to decide how to react optimally in an unexpected situation. The ability to do that successfully and rapidly is what inference in a neural network refers to.
The TensorRT 3 library helps optimize the inference of neural networks working on several Nvidia devices, including the Tesla V100, Jetson, Drive PX2, and Tesla P4. The TensorRT 3 library traces paths through a neural network in order to find the most important paths in a model, as well as identifying paths that can be removed. It can run inference on 5700 images per second, as NVIDIA demonstrated on a deep neural network used for image recognition.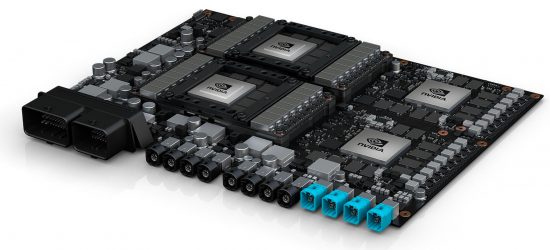 Last but not least the company also announced new efforts in the autonomous vehicle industry with their Drive platform (not to be confused with Google Drive). The Nvidia Drive platform currently includes the Drive OS, Drive PX computer, and the Driveworks SDK with autonomous vehicle algorithms, allowing for the more affordable development of autonomous vehicle systems.
On the same front, the Pegasus was also announced, a "supercomputer" designed for the production and deployment of autonomous taxis. Sporting a 320 Teraflop processor and embedded Nvidia Volta GPUs, the Pegasus is essentially an AI computer devoted to the art of driving. Approximately the size of a license plate, the Pegasus is discrete enough to be built into almost any vehicle, and reportedly uses only 500 watts of power. The system is slated to be available to NVIDIA partners during the second half of 2018.
Check out the video below for a sneak peek at the capabilities of the NVIDIA Holodeck.
Introductory video showcasing the capabilities and features of the Holodeck. (Source: Nvidia)