Another option from the product line of Kodak Pixpro 360° VR cameras targeting 360° VR video consumer market.
Eastman Kodak Company and JK Imaging Ltd., the worldwide licensee for Kodak Pixpro digital cameras and devices, have announced the availability of Kodak Pixpro Orbit360 4K VR Camera Adventure Pack in the US.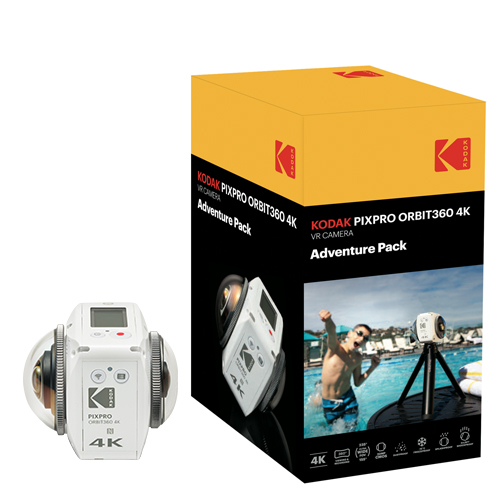 Kodak, best known for their historic role in photography and for their film and Pixpro digital cameras, already offer Kodak Pixpro 360° camera. At CES 2017 in January, Kodak introduced a new 360° VR 4K Camera, aiming at the "rapidly growing 360° VR video consumer market."
The product is a squarish device that features a spherical 360° camera and has two fixed focus lenses on either side. However, its front lens is smaller than the rear lens. It claims to have two 20-megapixel BSI CMOS (complementary metal-oxide semiconductor) sensors. The smaller field of view of front lens gives it a higher pixel density, as compared to the rear lens. This difference of pixel density of the two lenses becomes visible when the camera produces stitched 360° 4K video.
The users can easily upload 360° photos and videos to Facebook and 360° interactive videos to YouTube, while on the go with Pixpro 360 Remote Viewer app for iOS and Android smart devices. The ORBIT360 4K can livestream to Facebook and YouTube too.
The entry-level Orbit360 4K VR Adventure Pack is available for $500 from Kodak website. It comes with enough accessories so that a user can start clicking the pictures right after unboxing the product. However, it doesn't include the selfie stick and the more advanced remote control that allows switching between photo or video.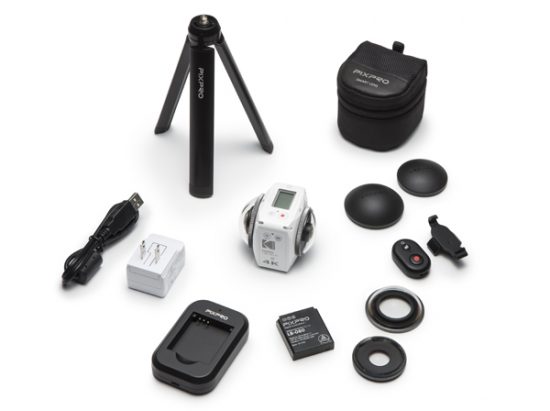 Thinking of the festival season ahead, investing in a good 360° 4K VR camera will be a right call.