The workstation market represents the high end of desktop computing. AMD has a small share of this market and is looking for opportunities to get more of it. 
AMD is putting up a renewed effort in the workstation market and the company is claiming gains. The company is increasing its work with ISVs and it's finally seeing the pay-off for its support for Open Source tools. JPR analyst Alex Herrera says it's a little too early to tell how much AMD is really moving the needle, but he believes the recent win for AMD's workstation graphics product FirePro in the coming Apple Mac Pro is a positive sign.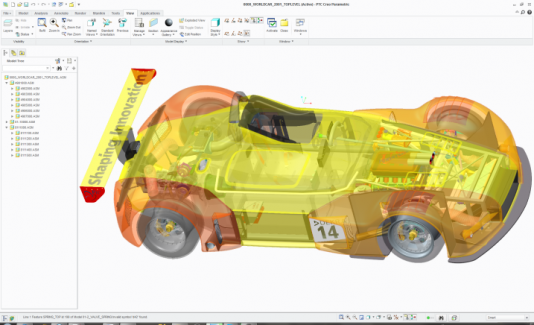 Most recently, AMD and PTC have announced performance gains for PTC Creo 2.0 by taking advantage of features in the FirePro architecture. PTC and AMD have addressed Order Independent Transparency which enables a frame containing multiple transparent elements to be assembled immediately, without sorting. In addition, the two companies have taken advantage of AMD's handling of Vertex Buffer Objects (VBOs). As a result vertex data are treated as objects and can be stored in the graphics memory to speed up rendering. The companies say they have significant increased viewport performance.
AMD can also point to gains for Dassault's Simulia analysis program, which has added support for OpenCL to its Abaqus product in order to take advantage of GPUs. Matt Dunbar, chief architect for Simulia says that by adopting the OpenCL programming interface into the current Abaqus program, Simulia is offering its customers more hardware choices.
AMD has done something similar on the content creation side when it went to work helping Tomb Raider developers Crystal Dynamics and special effects developers Confetti create better hair algorithms for Lara Croft. The companies developed TressFX and triumphed when gamers noticed the difference.
In general, when software companies opt to take advantage of resident hardware, they prefer to use technologies that offer them the broadest base of hardware, but as the software acceleration available from GPUs becomes more obvious, customers are making conscious choices about their hardware, and software vendors are seeing an opportunity for differentiation. Nvidia also saw a way to get an edge over the opportunity through hardware acceleration and in fact should be credited with helping define the opportunity with its creation of the CUDA programming environment, which made Nvidia's GPUs an open book for software developers.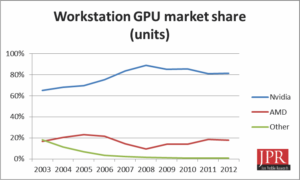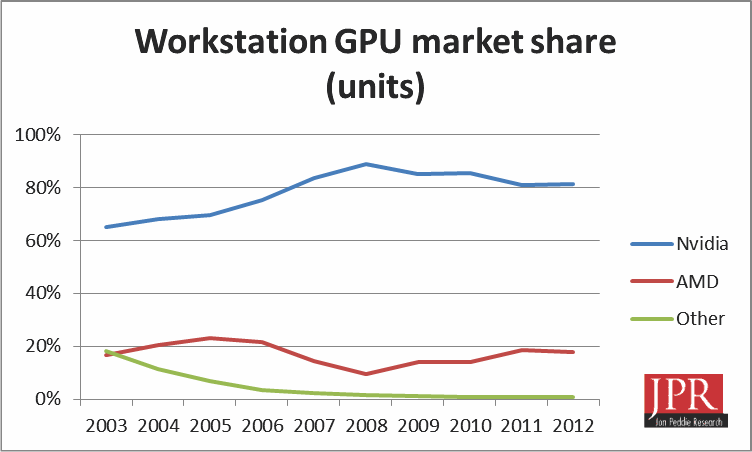 The success of CUDA actually highlights the need companies in the computer industry continue to have for open source resources to take advantage of multiple CPU and GPU cores. OpenCL has been developed through the development by committee process, which has meant slow progress but it also means there are a lot of people contributing to the API (application programming interface) and who have a stake in its success. AMD is all in and so is Apple, which backs OpenCL because it needs to thrive in a non-Microsoft world, and it likes the idea of using any hardware platform it pleases. All this comes at a pivotal time for the workstation market.
The GPU market for workstations is remarkably stable. AMD aims to shake up the status quo. (Source: Alex Herrera, Jon Peddie Research Workstation Report)
The workstation market is becoming much better defined in comparison to the broader PC market. The PC market has been upended as consumers weigh the convenience of tablet PCs with low power processors against their heartier laptop and desktop counterparts. It's arguable that a more lightweight tool is more than adequate for the day to day tasks of the average office worker. However, when it comes to tasks requiring heavy duty computing, sifting through big data, spreadsheet wrangling, video, and perhaps visualization as well, a workstation class machine is going to make a difference in terms of quality of work-life. The distinction between is becoming clear. There's going to be couch work and desk work.
What do we think?
The companies that have traditionally succeeded in the high end GPU market are the ones who can afford to assign engineers to key ISVs and tune software and hardware to work well together. It may have taken big changes in the market as a whole to enable those kinds of choices for AMD. However, we'd also argue that the company's new management is also making different choices than their predecessors. – K.M.