AEC is doing well, but an overall floundering economy held back results. Full-year results are on track to be below last year.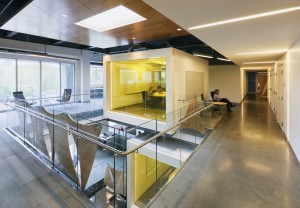 Autodesk (NASDAQ: ADSK) says revenue in the second quarter was down 1%, held back by a combination of factors internal and external. Earnings per share increased—and were higher than the consensus estimate—so Wall Street reacted by initially sending the stock down, then up in afterhours trading. Today the stock is trading at 39.53, up 9% from yesterday.
Revenue for Autodesk's second fiscal quarter of 2014 (ending July 31, 2013) was $562 million, down 1% from the year-ago quarter. License revenue was $313 million, down 6%, while subscription revenue was $249 million, up 6%. Autodesk says a strong sales promotion in the fourth quarter of fiscal 2013 had the result of pulling approximately $24 million in revenue away from the first two quarters of fiscal 2014.
Net income was $61.7 million, down slightly from $64.6 million a year ago.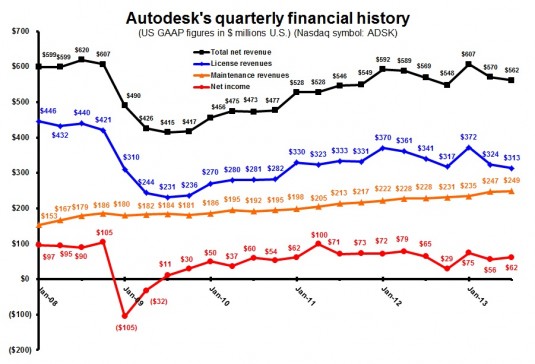 Net subscription billings were down 17% from a year ago. Autodesk says this is because of a decrease in multi-year maintenance subscriptions. Again, Autodesk points to a promotion effort in the previous fiscal year; an impending price change in 2Q13 saw a big bump in multi-year subscriptions. Autodesk also blames "typical seasonality" for the drop, which was 21% on a sequential (quarter-by-quarter) basis.
Autodesk has started the process of converting its education business from selling to granting software licenses. In the second quarter this resulted in a drag on revenue of approximately 2%, mostly in the Americas. Autodesk anticipated this in preparing its initial revenue forecast for the quarter.
Revenue by regions:
EMEA: $202 million, down 4% year-over-year; flat on a constant currencies basis.
Americas: $202 million, up 1.5% year-over-year. Growth in the US was offset by decline in Canada.
Asia Pacific: $158 million, down 1.8% year-over-year, but up 4% on a constant currencies basis. Japan was the strong market in this region during the quarter.
Revenue from the group Autodesk calls "Emerging Economies" was $86 million, down 2% year-over-year. India and Russia were down, but China was up. Revenue from Emerging Economies was 15% of revenue in the quarter.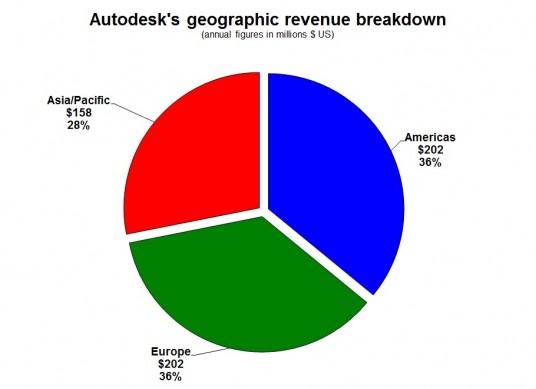 Revenue from Flagship products was $289 million, down 11% from a year ago; revenue from Suites was  $193 million, up 17.6% from a year earlier. Revenue from "New and Adjacent" purchases was flat year-over-year at $80 million. Autodesk notes that customers are migrating from the purchase of single-product licenses to Suites, which naturally decreases Flagship revenue and increases Suites revenue.
Revenue by division:
Platform Solutions and Emerging Business: $197 million, down 8.7%.
AEC: $177 million, up 8.5%.
Manufacturing: $144 million, up 2%.
Media and Entertainment: $43 million, down 12%.
Revenue from AEC Suites was up 36% year-over-year; Autodesk sells both Building Design and Infrastructure Design suites in this category. Revenue from Manufacturing suites was up 14% year-over-year, offsetting a decline in standalone products in this segment. Autodesk says overall demand in Media and Entertainment remains down, but notes it is also bundling key M&E products Maya and 3ds Max in other suites outside M&E. Revenue from Creative Finishing products—products with high prices and higher margins—were down 14% in the quarter.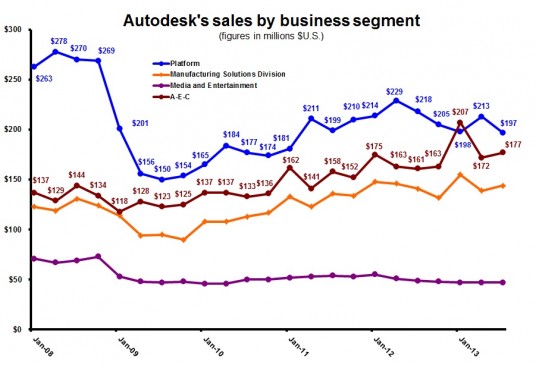 The combined revenue from AutoCAD and AutoCAD LT was $173 million in the second quarter, down 9% from a year ago. AutoCAD is part of various Suites, but AutoCAD LT is not. We note that AutoCAD and AutoCAD LT revenue was 31% of total revenue in the quarter. Sales of AutoCAD/LT as a percentage of total revenue has been holding steady as a percentage of total revenue for the past five years in the low thirties, as shown below:
AutoCAD and AutoCAD LT as a percentage of total revenue in 2Q:
2Q14: $174 million (31% of total revenue)
2Q13: $193 million (34% of total revenue)
2Q12: $169 million (30% of total revenue)
2Q11: $160 million (33% of total revenue)
2Q10: $132 million (31% of total revenue)
Autodesk has revised downward its forecast for third quarter revenue to a range of $540 million to $555 million; revenue in the third quarter last fiscal year was $568 million. Autodesk is cautioning about continued foreign exchange volatility in the quarter.
Our take
Autodesk has not provided a revenue forecast for all of fiscal year 2014, which ends January 31, 2014. Based on the first two quarters, it looks like Autodesk will report lowered revenue for the full fiscal year.
Autodesk has a lot on its plate internally right now, trying to steer the ship during what can optimistically be called dead seas. So many transitions:
From stand-alone products to suites
From educational sales to educational grants
From 2D to 3D
From pricey M&E products to commodity tools
From license purchases to purchases with subscription support to rental
From desktop and LAN to cloud.
Plus there is an ongoing sales reorganization that is moving revenue from vendors to direct, and shifting the ratio of sales within the vendor channel between volume dealers and value-added dealers. Plus it is still dealing with the influx of customers from its many consumer product acquisitions that provide scant revenue.   If CEO Carl Bass was a juggler, it would appear he is trying to get in the Guinness Book of World Records for most balls in the air at one time.
From our remote viewing location, it looks Autodesk has entered into the perfect mix of lower revenue and increased expectations that often push a technology company to make a major acquisition, one that brings revenue and not just technology or new customers. It is the kind of distraction from current problems that Wall Street loves. But there are few companies in Autodesk's wheelhouse that fit the requirements. Nemetschek in AEC, Aveva in plant, Bentley in AEC and plant, Mentor Graphics in electronic design automation (a new market for Autodesk), and Delcam in machining would all bring substantial revenue, but none are really up for grabs.  Autodesk may have to settle for earning more money the old-fashioned software way, by innovating. PLM 360 and Fusion 360 are the shape of things to come, but their contributions to the bottom line will be miniscule for years.
L. Stephen Wolfe, P.E., a contributing analyst for Jon Peddie Research, provided research for this report.
Five more of our custom charts follow. Larger versions of these charts are available at our Facebook page, www.facebook.com/GfxSpeak.