3D CAD and digital content creation are among targeted users. SolidWorks was part of the main stage presentation at Nvidia's GPU Technology Conference for the reveal. 
Nvidia today made good on past promises, announcing its new Nvidia Grid Visual Computing Appliance (Grid VCA). The device delivers remote GPU acceleration and a turnkey sensibility, enabling what Nvidia CEO Jen-Hsun Huang calls graphics as a service.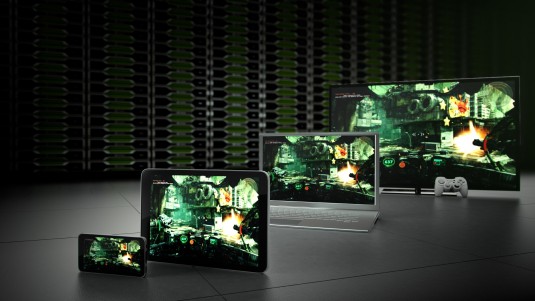 The Grid VCA is a GPU-based system that runs complex 3D professional creation applications such as those from Adobe, Autodesk and Dassault Systèmes, all of whom were mentioned during Huang's keynote presentation today at the Nvidia GPU Technology Conference in San Jose. The Grid VCA enables the use of programs like SolidWorks, 3ds Max or Illustrator on any computing device connected to the Internet; the remote notebook or tablet is a client to the Grid VCA. Remote GPU acceleration gives users the same graphics experience they would get from an expensive, dedicated PC under their desk.
During the presentation SolidWorks and 3ds Max were shown in use on a MacBook; neither program comes in a Mac version. Instead, the user was connected to the Grid VCA, where the software was hosted. Response times seemed as quick as they would be if the user were on the computer running the software, including when models were rendered.
When a supported product is loaded on the Grid VCA, a virtual machine called a workspace is created. These workspaces are effectively dedicated high-performance GPU-based systems which can be added, deleted or reallocated as needed. Depending on the device purchased, up to 16 dedicated workspaces may be created. The workspaces may be shared by an unlimited number of employees, as long as their simultaneous usage does not exceed the maximum number of workspaces.
Grid VCA is a 4U appliance equipped with 16 Nvidia GPUs and NVIDIA Grid VGX software to provide NVIDIA Quadro-class graphics performance. Nvidia says the device features low latency, high resolution, and maximum interactivity.
Dawnrunner is a San Francisco-based film production company that has been testing the Grid VCA. "Thanks to Nvidia Grid VCA, we don't spend weeks configuring workstations and transcoding files and projects," says CEO James Fox. "Instead, we have more time to deliver a higher quality product for our customers. And we can take on new projects with tighter deadlines."
The Nvidia Grid VCA will be available in the United States in May from authorized value-added resellers, offered in 8 GPU or 16 GPU configurations, with pricing starting at $24,900, plus an annual software license of $2,400.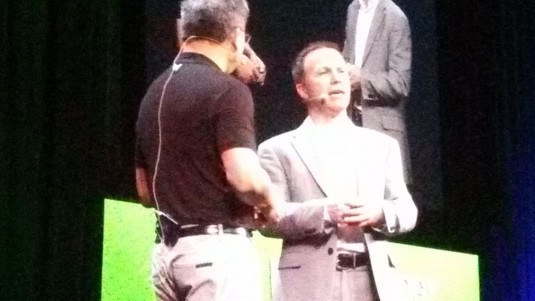 Our take
End users of SolidWorks, 3ds Max, and other supported products are not going to scream for the Grid VCA at first … unless they do a lot of remote work and are frustrated by the logistics. Initially demand will come from IT departments who will see the cost-effectiveness of virtual workspaces for 3D software.