More than 50 updates or features including new measure and calculate tools.
Actify has announced the next release of SpinFire, its design visualization software popular in companies that manage their product information data with a solution from a non-CAD vendor. The update, version 10.0, will ship in August with more than 50 new or updated features.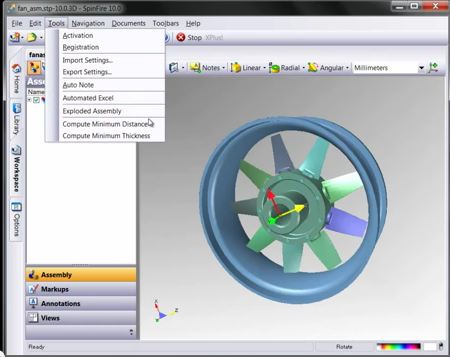 SpinFire 10.0 is designed for the viewing of 2D and 3D CAD without the use of a native CAD system. A trimmed-down version is bundled with open source PLM Aras Innovator.
Some key features of SpinFire 10.0 include:
Thumbnails of the most recently accessed CAD files, including 3D views
The ability to instantly see minimum wall thicknesses within an assembly
The ability to calculate the projected area of a part or assembly
All new CAD interfaces
New weight calculation plug-in
New minimum distance calculation plug-in
Improved display of drawing layers in 2D
New function: Projected Plane Surface Area
SpinFire 10.0 is currently in preview with resellers and partners, and will be available to customers in August. Pricing starts at $499; current users on maintenance will receive the upgrade at no additional charge. A free trial version of SpinFire 10.0 will be available for download at www.actify.com in August.
Videos showing aspects of SpinFire 10.0 are available on the Actify YouTube Channel: http://www.youtube.com/user/ActifyInc.
What we think
Despite the persistence of the Big Four CAD/PLM vendors, most manufactures refuse to buy into the notion of one size fits all. Actify has a loyal following with SpinFire, and has a reputation as a nimble, feisty competitor in the crowded CAD visualization market. With downloads of their PLM partner Aras going through the roof, this release will gain even more exposure than in the past.