The 3.0 upgrade brings pipe shaping, faster operation, and support for 64-bit Rhino 5.0.
T-Splines, Inc. has released an update to its popular surface modeling add-in to Rhino 3D. The product uses patented surface modeling technology to provide organic design for product designers, jewelers, engineers, and architects.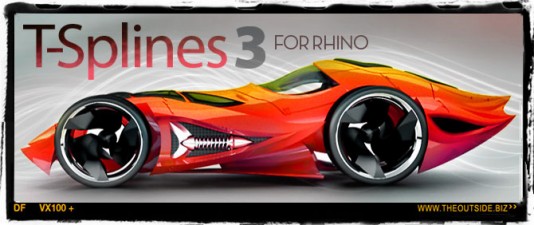 New features include:
Create piped shapes from a network of curves—Used to create a wide variety of shapes that can be described by connected or intersecting pipes, from bicycle frames to intricate jewelry.
Match T-Splines surfaces or edges to other NURBS geometry in the model—Match T-Spline surfaces to NURBS surfaces or curves with curvature continuity to any specified tolerance. Users can also match interior T-spline edges to NURBS curves.
Compatibility with Rhino 5 64-bit—The next version of Rhino is still in open testing, but T-Splines 3.0 users will be able to work with both T-Spines and 64-bit Rhino 5.
Improved Edit mode—To offer a more optimized push/pull interaction, the revised T-Splines edit mode provides a number of new options, such as the ability to use manipulators, edge and face grips, soft manipulation, hotkeys, and real-time volume calculations.
Improved speed and capacity for larger models—T-Splines says "the entire T-Spline definition has been rewritten over the past several years, for improved speed and better handling of large models."
Automatic symmetry discovery—Symmetric objects can now be oriented to any cPlane, anywhere in the scene. Symmetry can be discovered on existing objects, and turned off on part of a model while the rest of the model continues to be symmetric.
Start modeling anywhere—Primitives (Box, Plane, Cone, Torus, Sphere, Cylinder or QuadBall shapes) can now be created anywhere in the scene.
Basic Reverse Engineering—Conform the control points of a T-spline primitive to a polysurface or mesh to a specified tolerance.
Export to SolidWorks—T-Splines 3 for Rhino and tsElements for SolidWorks are now compatible, allowing industrial designs and concepts to move from Rhino into SolidWorks, maintaining full push-pull editing control throughout.
Optimized Subdivision surface to NURBS conversion—This feature is a push-button conversion, providing tolerance to some triangles in the source model and providing options to repair the mesh and optimize the NURBS patch layout.
More information: www.tsplines.com.