Making good on its recently announced fifth growth initiative, 3D Systems will own the top two technologies for scan-to-CAD.
3D Systems (NYSE:DDD) today announced it will acquire Geomagic, Inc., provider of 3D authoring products for turning 3D scan data into 3D content for product design and inspection. Geomagic made news recently with the announcement of Spark, a new scan-to-CAD program that combines elements of Geomagic Studio with SpaceClaim 3D CAD software. 3D Systems stock is up 2% to 56.99 on the news.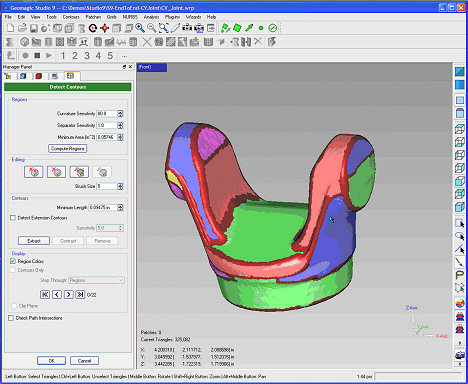 Geomagic company founder and CEO Ping Fu will become Chief Strategy Officer at 3D Systems. On December 31 her book "Bend Not Break" was published by Penguin. "Bend Not Break" tells Fu's personal story, a remarkable account of triumph over incredible hardship. The book covers her early years in China during the Cultural Revolution, her arrival in the US, the circumstances that lead to her participation in the Mosaic project (which created the first viewer for the new World Wide Web), and the founding of Geomagic. Fu was named "Entrepreneur of the Year" by Inc. Magazine, and has been the invited guest of President Barack Obama and former President Bill Clinton at more than one event.
3D Systems did not disclose the terms of the deal. Three months ago 3D Systems acquired Geomagic's top competitor, Rapidform, for $35 million. The deal is expected to close during the first quarter of 2013. 3D Systems expects the deal to be accretive to non-GAAP earnings within the first full year following closing.
In April 2012 Geomagic acquired Sensable Technology, bringing 3D design and haptics into its product line. At the time, Sensable's patent holdings were valued at $50 million.
When 3D Systems acquired Rapidform in October 2012, CEO Abe Reichental said the purchase signaled the launch of a fifth growth initiative for the company, the creation of a comprehensive digital design/scan/print platform. In announcing the Geomagic acquisition, Reichental said complimentary capabilities in the two product lines are a win for the company and its customers. "We intend to expand the range of our 3D authoring solutions further into new manufacturing and consumer applications and concurrently maintain and enhance the existing Geomagic and Rapidform product lines," he said. Reichental also noted the deal brings a significant expansion of its dealer network.
"We have worked with 3D Systems for several years to accelerate adoption of 3D content-to-print solutions and believe that now is the right time to combine our efforts to further democratize access to design and 3D printing," said Fu in a published statement about the acquisition. "Joining 3D Systems provides us with the scale, resources and strategic platform to realize our shared vision of delivering functional, affordable and extensible 3D authoring solutions for the benefit of professional designers and engineers, as well as the exciting Maker's movement."
Our take
When 3D Systems acquired Rapidform, it looked as if Geomagic had just gained a very large and very well-funded competitor. Geomagic Spark was already in the works when 3D Systems acquired Rapidform, but the project was accelerated in response. Now it seems 3D Systems has cornered the market on scan-to-CAD, a complex set of capabilities not easily assembled into one program.  Only similar acquisitions by a competitor could quickly match the scan-to-CAD portfolio 3D Systems now controls.
Related
Geomagic Spark unites 3D scan data with MCAD geometry
3D Systems buys Rapidform for scan-to-CAD and inspection software
3D Systems acquires Bespoke Innovations for custom prosthetics